Hundreds Roll Up Sleeves for Day of Service
Some 110 members of The Dental College of Georgia community members of Augusta University fanned throughout the CSRA Sept. 12 to pull weeds, paint buildings, clean up neighborhoods, lead basketball clinics, sort books and perform a myriad of volunteer activities.
The occasion was the annual Day of Service of Augusta University. This year, the event drew over 1,000 volunteers campuswide, including dozens of members of the DCG community.
"This was a great representation of our community spirit," said Dean Carol Lefebvre, "but the truth is that volunteerism is built into the DCG experience year-round."
Projects include fundraisers, dental screenings, oral cancer walks, homeless stand-downs, Georgia Mission of Mercy, Give Kids a Smile Day and many other initiatives.
"Each student in the first three years of dental school is required to accrue 20 to 25 hours of community service," said Associate Dean Carole Hanes. "In the 2014-15 academic year, more than 7,400 hours of service were provided by students alone. Obviously, many students give more than their required hours."
Their volunteer sites during the Day of Service included Goodwill's Good Books Café, the Golden Harvest Food Bank, Aiken Community Medical Center, Heritage Academy, the Downtown YMCA, Phinizy Swamp, Lucy Craft Laney Museum, First Tee of Augusta, Mistletoe State Park, Richmond Academy, Wilson Family YMCA (Katie's Pool) and the Salvation Army North Augusta Family Store.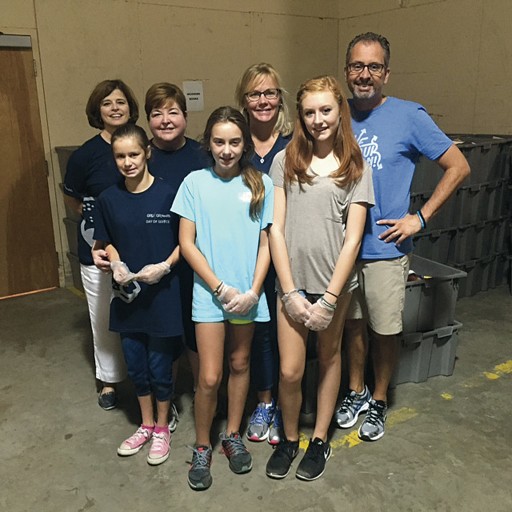 "Serving is second nature at the DCG, so devoting one Saturday to it hardly seems like anything at all," said Lefebvre, who sorted books at the Good Books Café during the Day of Service. "Yet being part of the whole university team as we make an impact across our communities is something to be noted. And making a difference every week and month, as the DCG does throughout the year, is noteworthy. I'm so proud to be serving alongside my DCG family."
Centuries of Service
Included in the Day of Service volunteerism was a site for which the DCG has a particular dose of enthusiasm: Christ Community Health Services.
The structure, located at 127 Telfair St., was built in 1818 as Augusta's first city hospital for the "sick poor." It is also the original home of MCG, then called the Medical Academy of Georgia.
The structure now on the site was completed in 1887, housing 42 rooms to serve needy women, particularly war widows. The Widows Home was purchased in 2003 by Augusta developer Clay Boardman, who was interested in preserving it. The Widows Home Foundation still exists and actively supports causes of women in need.
In 2008, Boardman donated the building to Christ Community Health Services, specifying that it be renovated and used as a health center for underserved Augustans. The Ann Boardman Widows Home opened its doors to patients in 2011. A fundraiser is ongoing to complete the second and third floors and expand services to include dentistry, physical therapy and patient education.
For more information or to donate, visit christcommunityaugusta.org.