Ceremony Symbolizes Students' Immersion into Clinical Care
Practicals, tests, quizzes, projects . . .
The classroom time and endless studying that characterize the first year of dental school represent an almost Herculean effort to cram as much vital information as possible into the heads of future dentists.
But it is the transference of those skills from the head to the hands that truly signifies a dental education.
That is the transition that was celebrated by The Dental College of Georgia's 86 second-year dental students during the school's 13th annual White Coat Ceremony Aug. 28. The event symbolizes the students' immersion in earnest into the clinical portion of their education.
It is only in completing the grueling inaugural leg of the endurance test – the first portion of dental school – that students can truly appreciate their hard-earned white coats, according to Class President Chas Plaisance. "These white coats are a testament to the dedication that I know you have all seen from my classmates," he told the gathering of well-wishers, including President Brooks Keel, Provost Gretchen Caughman, Dean Carol Lefebvre and Dr. Bruce Ashendorf, who represented the International College of Dentists.
"The past 12 months have really given meaning to these coats, and they are now something more than simply ornamental clothing," Plaisance said. "This rite of passage means more now that we have begun to understand the dedication that is required from our profession. It really takes some serious persistence and determination to become a dentist."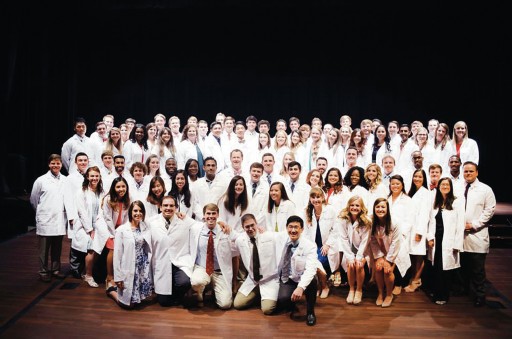 He expressed appreciation to all who helped him and his classmates cross the threshold, including the DCG administration, faculty and staff; the American College of Dentists and International College of Dentists, which provided the coats; and family and friends, many of whom receive "the late-night calls of concern or random text messages that we send when we need some extra motivation," Plaisance said. "Without the help of everyone here today, this dream would not be able to one day become a reality."
He also cited the singular bonding experience that unfolded during the first year of dental school. "Many days, we spend more than 12 hours a day together," he said. "The demands that dental school requires from its students have helped us develop some amazing friendships within our class that I am so thankful for."
But it is the future, not the past 12 months, that he said inspires his deepest emotions. "The obligation that we have already been given as dental students is even bigger now as we have begun the transition to patient care with these white coats," Plaisance said.
That message was reinforced during the American College of Dentists Ethics Seminar that followed the ceremony. Said Dean Carol Lefebvre, "While not technically related to the White Coat Ceremony, the seminar encourages students' ethical behavior as they begin more in-depth clinical care and prepare for their future graduation."