The DCG celebrates a half century of excellence
The situation was dire.
Dr. Victor Della-Giustina, Georgia's newly appointed public health district dental director, was appalled by the oral health of the citizens he was hired to represent. The year was 1957, and Georgia's water supply lacked fluoridation. Worse, droves of Georgians had never stepped foot in a dentist's office, and the concept of daily oral hygiene was, for many, a nascent novelty. (It had been only about a decade since daily toothbrushing in the United States had become widespread, what with World War II soldiers bringing their newly acquired global sophistication back home.)
Many Georgians were toothless, or well on their way, by middle age, and the state was growing rapidly. The status quo was simply unsustainable.
"Dr. Della," as he was known, had several urgent goals: fluoridate the public water supply, educate the public about oral hygiene and establish a state-supported dental school.
Emory University operated the state's sole dental school at the time. Dental education is incredibly resource-intensive, requiring a small student/faculty ratio to impart not only voluminous knowledge, but meticulous clinical skills as well. Opening a new dental school would be a daunting challenge.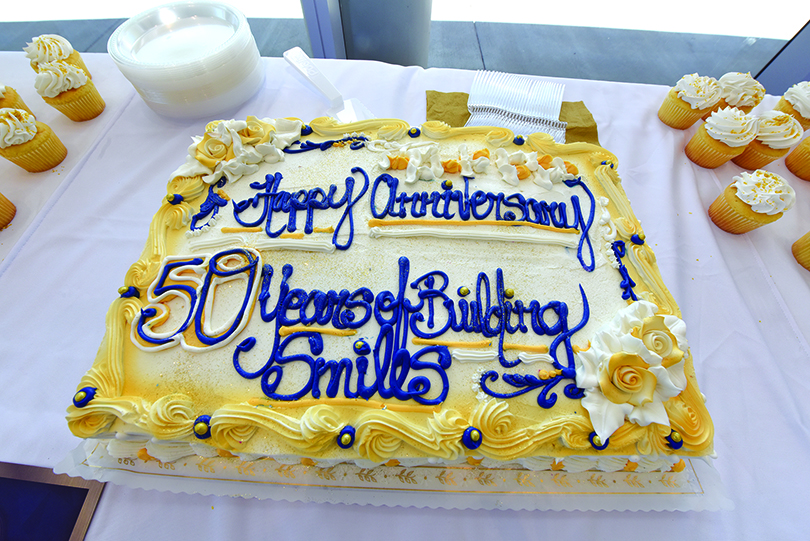 But Dr. Della persisted, appealing to then-Medical College of Georgia President Harry B. O'Rear to help plead his case. In 1961, the Augusta Dental Society passed a resolution to study the need for a new school. Five years later, then-Gov. Carl Sanders, an Augusta native, signed a resolution authorizing the University System of Georgia Board of Regents to construct the school on the campus of the Medical College of Georgia, one of the legacy institutions forming Augusta University.
The next step was to task someone with running the Medical College of Georgia School of Dentistry (now The Dental College of Georgia). Dr. Judson C. Hickey, a prosthodontist and assistant dean of the University of Kentucky College of Dentistry, was appointed dean, arriving in Augusta to discover that his "school" consisted of two trailers. MCG would share some of its facilities for teaching and research, but several years would pass before the school would have a building to call its own.
No matter. Hickey was more concerned with people than bricks and mortar, and recruitment was his highest priority. He quickly hired his University of Kentucky colleague, Dr. Louis J. Boucher, as assistant dean for basic sciences and chair of the Department of Oral Biology. Next on board was Dr. Thomas J. Zwemer, from Loma Linda University, to oversee clinical sciences.
"These three led the school in its formative phases, and their ideas led to significant changes in dental education in which [the DCG] played a major and leading role," according to Dr. George Schuster, an inaugural and now Emeritus faculty member, in his treatise, Dental College of Georgia: Bringing an Idea to Reality.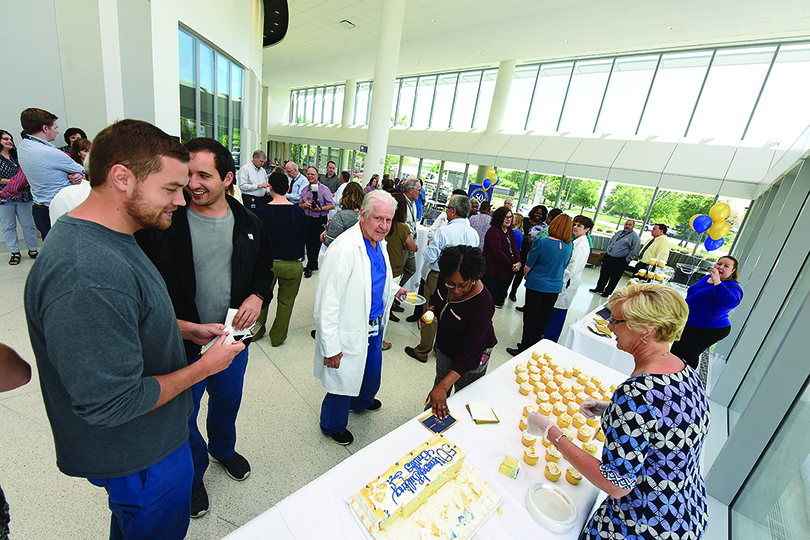 "Dental education had not significantly changed for a long time," Schuster wrote. "It basically was a four-year course that consisted of two years of basic sciences and laboratory technique courses for the clinical sciences and two years of clinical experience. Basic sciences were for the most part taught by medical school faculty, often the newest or most junior faculty members who had to serve their time in 'purgatory' by teaching dental students."
Hickey brooked no such nonsense. "It was these things that Jud, Louie and Tom set out to change," Schuster wrote, "while navigating through institutional, state, local and organized dentistry politics."
Hickey's standards were tremendously high, including recruiting dentists with an advanced degree in the basic science they would teach. He intended to emphasize instruction, investigation and involvement in a collegial atmosphere in which "the students were to be our (future) colleagues as well as students," Schuster wrote. "The curriculum would be diagonal, with early clinical experiences and later basic science exposure to help show the students how to apply the sciences to patient care. This would become more in-depth as the clinical experiences became greater and more complex. The idea was that the students and graduates would have a basis for providing state-of-the-art care for the patient."
Basic and clinical scientists would work together, involving students where possible. "To facilitate interactions in the early stages," Schuster wrote, "before the school building was completed (and even to some extent after), clinical and basic science faculty often shared or had contiguous office space. The curriculum was developed with input from both groups, working jointly."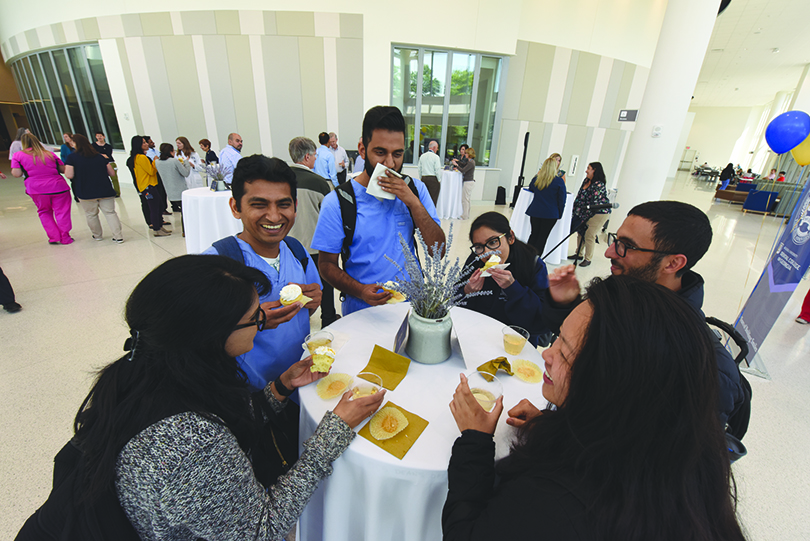 Public health was also a paramount consideration; the dean wanted students to understand the needs of the population they would serve.
In 1969, the school was ready to open its doors to students. The inaugural faculty's 35 members welcomed its first class of 24 students that fall.
Hickey's personal touch was immediately evident and set the tone for the school from that point forward. "He knew every student by name," says current Dean Carol A. Lefebvre.
Progress was nothing short of astonishing. Students quickly found themselves under the tutelage of some of the greatest minds in dentistry — faculty who not only taught them, but involved them in breaking new ground in their discipline. "Investigation focused on dental-related issues, particularly in the biological sciences, materials sciences and esthetic dentistry," Schuster wrote. "While the basic science faculty worked in their laboratories, often clinical scientists would work with them on problems more clinically focused. Similarly, some of the basic science faculty worked in clinical areas and disciplines."
The results were bountiful. The DCG soon became internationally renowned for advances in areas including fluoride metabolism, esthetic techniques, biomaterial efficacy, caries prevention, dental implants and temporomandibular joint diseases.
And finally, in 1971, the DCG had a home to call its own, a then-state-of-the-art building on Laney-Walker Boulevard. By the time the first class graduated in 1973, the DCG had wholly hit its stride, enjoying full accreditation by the Commission on Dental Accreditation (CODA). The inaugural group of students performed so well on state and national boards that the DCG was ranked one of the top dental schools in the country.
Success spawned imitation; other dental schools began emulating DCG innovations in teaching, research and clinical care.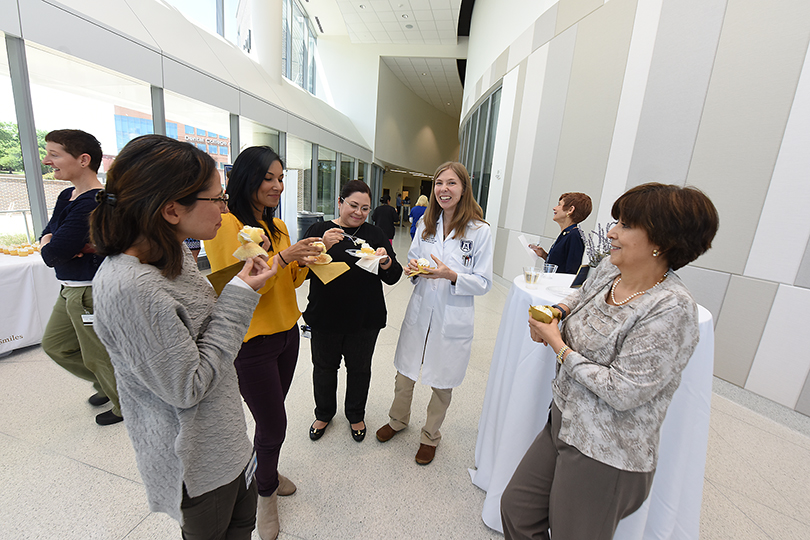 The seventies and eighties emphasized ongoing refinement in these areas, particularly regarding the curriculum. This era also brought increasing cultural awareness, with laudable efforts to recruit students reflecting gender, race and socioeconomic diversity. "There had been a few students from [under-represented] categories," Schuster wrote, "but more concerted efforts were made to recruit students from these groups, and again [the DCG] was a leader in these efforts."
The class size also grew steadily during this period, reflecting not only the needs of a growing state, but the closure of Emory's dental school. Faculty recruitment continued apace as well, particularly as members of the inaugural faculty began retiring.
One of these was Hickey himself. In 1987, he was named interim president of the Medical College of Georgia, then retired a year later.
He was succeeded by Dr. David Myers, chair of the Department of Pediatric Dentistry and a faculty member since 1970. His understated, amiable and deft touch left a lasting mark on the school's commitment to both quality and collegiality. Hickey had cultivated a family-type environment at the school, and Myers perpetuated the legacy admirably.
Upon his retirement in 2001, Dr. Brad Potter, who oversaw dental radiology, served as interim dean for three years, at which point Dr. Connie Drisko was named to the position permanently.
"She was the first non-MCG faculty member to become dean," wrote Schuster. "Dr. Drisko was a bundle of energy in the school but particularly with the alumni and organized dentistry. Since
Georgia was still growing, it was recognized that class size needed to be increased, but in order to do that we would need a new facility. She spent much of her tenure raising money and convincing the legislature of the need for more dentists and a new facility. The current building, one of the finest, most up-to-date in the country was occupied in 2011."
The facility, one of the largest of its kind in the country, includes 316 clinical operatories, simulation labs and clinics for junior and senior students. Its construction allowed enrollment to grow from 60 to 96.
Drisko left the deanship in 2013 to serve a new role in advancement, further strengthening ties to alumni and other supporters of the college. Her influence continued until her death in 2014.
Drisko was succeeded by Lefebvre, a prosthodontist and researcher who joined the faculty in 1989.
Lefebvre has overseen tremendous growth and the inauguration of the school's new name, The Dental College of Georgia. The renaming took place shortly after MCG (then called Georgia Regents University) and Augusta State University consolidated in 2012 to form Augusta University.
"We wanted the name to reflect our distinction and importance as the state's sole dental school," Lefebvre says.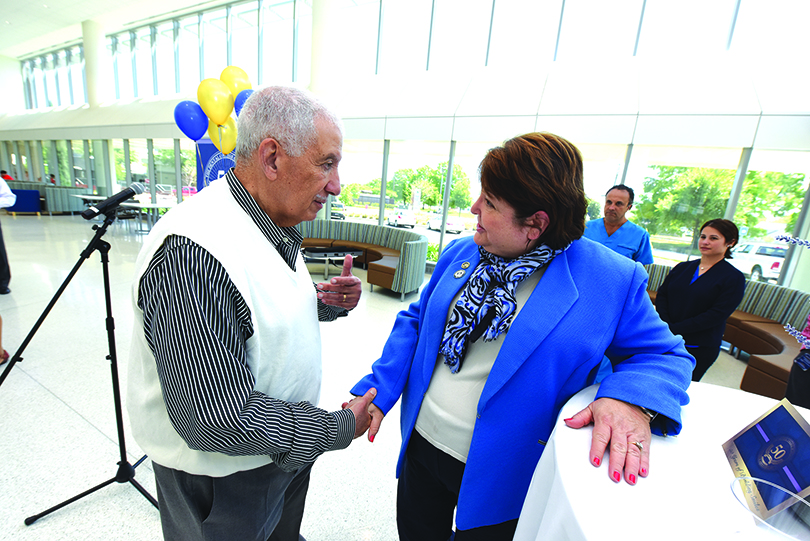 She has worked hard to build on the legacy of her predecessors, particularly the beloved Dean Hickey, who died in 2004. "We continue to promote a family environment," she says. "The school keeps growing, so it gets more challenging, but we have lots of engagement activities and do everything possible to maintain a family feel. Our students are here for four years, and each class bonds and becomes a family of its own."
That bond permeates outside the classroom as well, hours that are often filled with volunteerism. Says Dr. Carole Hanes, who recently retired as associate dean for admissions, students and alumni, "Our students come here knowing we prioritize community outreach. We've emphasized that since the very beginning. We're seen as a force in the community — everything from health fairs to school visits to free screenings. The students know that this is who we are."
In recent months, Lefebvre has overseen a complete revamping of the curriculum, working with faculty to ensure that coursework and clinical experiences reflect the evolution of dentistry, particularly regarding technological advances. Their efforts were rewarded in March with re-accreditation by CODA after a highly successful site visit. (See page 4 for more information.)
Lefebvre is also continually recruiting the best talent to her faculty, and she cites patient care as an ongoing top priority. "We're working really hard to optimize the patient experience," she says. "A patient advisory board weighed in during construction of our new building, identifying ways to make patient visits as pleasant and efficient as possible. Their recommendations included incorporating art into the decor to create a calm, soothing atmosphere, and I'm proud to say our building houses over 180 pieces of artwork."
She is immensely proud of the faculty, staff, students and alumni for perpetuating and building on the legacy Dean Hickey established. All of those people were honored during Alumni Weekend in April, which included recognition of all Distinguished Alumni, Emeritus faculty, Jag 20 and Outstanding Young Alumni award recipients through the years and members of the first graduating class. The school's reunion activities welcomed graduates of every class year. It is their efforts, she says, that spread the benefits of their education far and wide, ensuring second-to-none dental care for patients throughout Georgia and beyond.
"Seeing our alumni excel in their chosen profession makes me most proud," says Lefebvre. "Nothing gives educators more fulfillment than seeing their students succeeding in practice."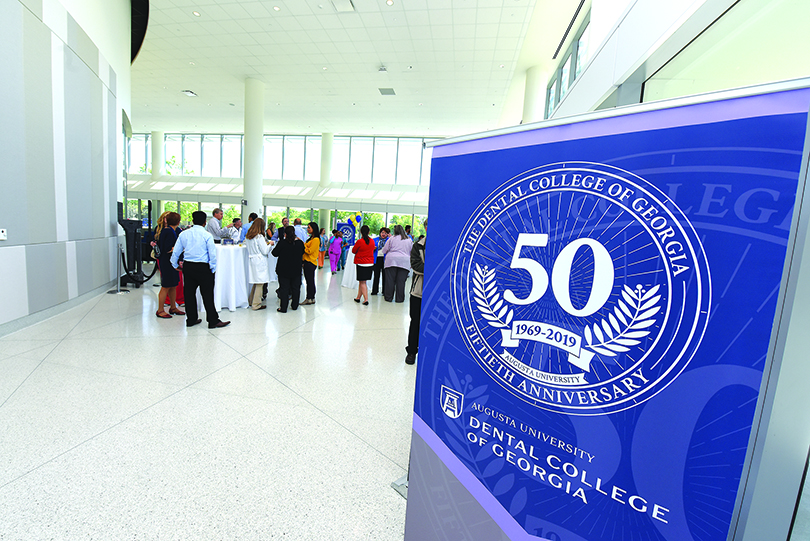 'We're a Family'
Smiles and laughter punctuated virtually every remark of a recent conversation with members of the DCG 50th Anniversary Committee.
When the committee members — Emeritus faculty Tom Dirksen, Carole Hanes, Bob Kaltenbach, Art Rahn and George Schuster — sat down to reflect on the college's past, one anecdote flowed seamlessly into the next, with knowing chuckles speaking to a half century of friendship and collegiality.
"We're a family," said Kaltenbach.
And their affection for the family patriarch was clear.
"All of us had immense, immense respect for Jud (founding Dean Judson C. Hickey)," Kaltenbach said. "He had a unique vision for what this place could be and should be."
Noted Dirksen, "Being here since almost year one, I can tell you that Jud set the tone right off the bat. He arranged various social functions, spouses and children included. Early on, he said, 'Let's have a New Year's Eve party to get everyone together,' and that became a tradition. Nobody wanted to go to any other parties; they all came to ours."
Said Schuster, "Unlike most other dental schools at the time, there was no divide between the clinical and basic science faculty; everything was integrated. It made the faculty one. Everyone was on a first-name basis."
The warmth spilled over to students as well. "We looked at students as being our future colleagues, which they would be in just a few short years," said Kaltenbach.
"There wasn't some impenetrable wall," Schuster added.
Said Rahn, "Jud came from the University of Kentucky, which had pioneered a new approach to educating dentists. That's where Jud's attitude originated; he wanted a student-friendly school."
Hickey enlisted many of his Kentucky colleagues to serve as inaugural DCG faculty, then tapped the University of Rochester to recruit most of his basic scientists. "The students used to call them the Rochester Mafia," Rahn said with a laugh.
All concurred that the DCG cast a spell on them from day one.
Said Hanes, "We came here thinking we wouldn't be here long. Thirty-three years later. . . ."
The others nodded. Said Dirksen, an inaugural faculty member, "[My wife] Jean and I thought we'd be here two or three years, and here we still are."
"The morale and collegiality are so distinctive here," said Kaltenbach. "This is home to me, and it's always a pleasure to be here."
Dirksen recalled a time his son's elementary school teacher asked the boy what his father did for a living. He replied, "I'm not sure, but I know he has a good time doing it."
DCG Timeline
1868: First discussion of need for dental school at the Medical College of Georgia (now Augusta University)
1968: Dr. Judson C. Hickey recruited as first dean
1969: First class begins with 24 students
1972: DCG switches from four- to three-year curriculum
1973: June graduation held for inaugural students
1973: September graduation held for second group of students
1979: DCG reverts to four-year curriculum (no graduation held)
1983: DCG graduates largest class to date (64 students)
1987: DCG hosts first hooding ceremony
1988: Dr. Judson C. Hickey named Medical College of Georgia interim president
1989: Dr. David Myers named DCG dean
2001: Dr. Brad Potter named interim DCG dean
2003: Dr. Connie Drisko named DCG dean
2006: DCG goes digital (electronic health records and digital radiography)
2009: Ground broken for new DCG building
2009: 30th anniversary celebrated
2011: New clinical building opens
2013: Dr. Carol A. Lefebvre
named DCG dean
2014: DCG implements B.S.-to-D.M.D. program
2018: First B.S.-to-D.M.D. student graduates
2019: DCG switches from three- to two-semester system
2019: 50th anniversary celebrated