For the last century, Hamilton Health Care System has been supporting the community of Dalton, Georgia, a manufacturing town of about 100,000 people that borders Tennessee in the foothills of the Blue Ridge Mountains.
"We really view ourselves as friends and family taking care of friends and family," says Dr. Brian Delashmitt, executive vice president and chief medical officer at Hamilton. "This is a community hospital — people from the community work here and we take care of those in the community."
For nearly a decade the health system has also taken care of students from the state's only public medical school. Medical College of Georgia students have been coming to Dalton and Hamilton for six-week rotations for about eight years, in specialties like family medicine and internal medicine, says Dr. Leonard Reeves, campus associate dean at MCG's Northwest Campus, which is based about 40 minutes down I-75 in Rome. A few years ago, when the health care system began considering venturing into medical education by starting an internal medicine residency program, Reeves also saw an opportunity to expand educational opportunities for MCG students.
"Dalton is a big medical community and there are a lot of (health care) resources there, and Hamilton is a stable health system, all very good things when it comes to medical education," Reeves says. "My thought was, if we could get some students there on a consistent basis and get their physicians used to teaching, it would help us provide more opportunities for our students and it would help Hamilton when they were ready to establish a residency program."
The leadership at Hamilton was all in. "We believe that hospitals that have teaching programs raise the bar across the board," says Jeff Myers, Hamilton's chief executive officer. "Young minds bring in the latest and greatest in medical knowledge, which assures us that there's constant quality and improvement of care."
This year, 12 third-year MCG students are helping raise the bar — they are the first to live and learn in Dalton for a full-year, completing nearly all their year-three clerkships like family medicine, internal medicine, OB/GYN, pediatrics and neurology there.
Support from all sides
At the turn of the 20th century, Crown Cotton Mills was the Dalton region's biggest employer. At the time there was no hospital in town, so doctors practiced medicine in every type of environment, sometimes traveling many miles to provide the care the community needed.
In September 1919, Crown's directors announced their intent to establish a hospital for mill workers and others, setting the stage for Hamilton Memorial Hospital, which opened its doors in May 1921.
Today Hamilton is the area's only independent health care delivery system. "Yes, we're a 255-bed acute care facility that provides essentially every service line, but we are also 400 beds of skilled nursing and another 120 apartments of assisted living, home health, hospice, freestanding imaging and more," Myers says. "We also have a 65,000 square foot fitness facility and hold the EMS contract for (Whitfield) County. We're literally part of every aspect of health care delivery in this community."
The Dalton community is a sort of "melting pot," according to Dr. Daniel Grace, an internist who also leads the hospital's now two-year-old internal medicine residency program. "There are flavors of Appalachia, a large Hispanic community, some people who work in metro Atlanta and then we also have a manufacturing community. The patient population is very diverse."
It's also a community whose support of its health system has been steadfast for the last 100 years.
"The community is very good to us — we have great benefactors from the industries in town," Delashmitt says, noting some of the names on its buildings, like the Peeples Cancer Institute, funded by a gift from Willena and the late Shelby Peeples, who were in the carpet business and became local philanthropists; or the Anna Shaw Children's Institute, dedicated to the care of children with developmental and cognitive delays and made possible by a generous gift from the Anna Sue and Bob Shaw Foundation based in Dalton.
"But in turn, Hamilton is all about the resources that it puts back into its people, that it puts into its facilities and that it puts back into the community," he says.
And that it puts back into the next generation.
"I really enjoy the one-on-one training with students," says Dr. Bryan Cheever, who directs Hamilton's Family Medicine Residency Program. "They keep me on top of my game, make me take another look at things I may have taken for granted about how I practice. It's honestly better than CME. I learn as much from them as they do from me."
The lessons aren't lost on the students in Dalton.
"It feels like such a personalized experience here," says third-year student Hannah Harper, of Rome. "I love working one-on-one with attendings. I feel like I learn so much and it's so clear that they love to teach."
The health system also supports students in other tangible ways. In addition to physicians like Cheever who volunteer their time, Hamilton also provides free housing and meals to all non-local students who are completing clinical rotations there, something Reeves said he didn't even have to ask for. "They just offered," he says.
"We want them to be able to be focused on the things that really matter while they're here," Myers explains. "We want them to be in the position where they can fully immerse themselves and be part of the medical team."
"I really enjoy the continuity that it provides. A patient
doesn't just come into the office so we can treat a headache,
for example. There are other things going on. Or when
people receive a diagnosis, it affects a lot of areas
throughout their lives. This curriculum allows us the
opportunity to follow up and see those effects and hear our
patient's stories throughout the year."
–Third-year student Lauren Brown, of Lawrenceville
A different educational experience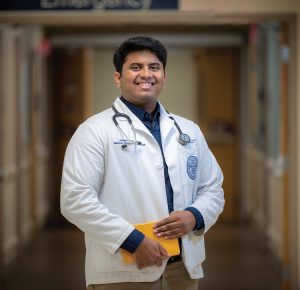 The students learning in Dalton say they get to do just that.
"They do their best to support us and make sure we feel like we're at home," says third-year student Joseph Elengickal, of Alpharetta. "I have one-on-one relationships with the physicians who are teaching me. When I am suturing in surgery, the surgical technicians even wait behind to teach me different techniques." "I personally have been able to do many things myself, like man the camera during a surgery or help close (incisions)," says Elengickal's classmate Dylan Scott, a native of Ringgold. "I really enjoy getting these hands-on experiences. For example, when I was on call one night and I was able to help with five vaginal deliveries."
Like they do in Rome, students in Dalton follow a longitudinal integrated curriculum, meaning they experience different specialties over a longer timeframe. Rather than completing one six-week rotation in a specialty like family medicine for instance, students keep coming back to specialties over the course of a year, enabling them to get to know their patients better and see the results of their care.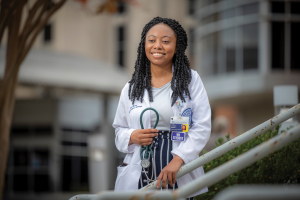 "I really enjoy the continuity that it provides," says third-year student Lauren Brown, of Lawrenceville. "A patient doesn't just come into the office so we can treat a headache, for example. There are other things going on. Or when people receive a diagnosis, it affects a lot of areas throughout their lives. This curriculum allows us the opportunity to follow up and see those effects and hear our patient's stories throughout the year."
Meeting a future need
While leaders at Hamilton agree that educating medical students and residents helps ensure quality patient care, they also concede that a potential physician pipeline could be an added benefit.
According to the Georgia Board of Health Care Workforce, Whitfield County, where Dalton is located, and neighboring Murray County, aren't necessarily faring poorly — combined, they rank 30th in Georgia in physicians per capita. But they are facing the same issues the rest of the state and country are — including an aging population overall, an aging physician population, and a general shortage of physicians that's likely to worsen.
"The state as a whole has a desperate need for physicians. I think the projected deficit is more than 2,000 primary care physicians over the next 20 years," Grace says. "Educating people in this community helps them get to know the needs and idiosyncrasies — to carry that knowledge with them and maybe eventually return to this area to provide for this community's needs."
That's why making the students' experience at Hamilton is a top priority, Delashmitt adds. "We want students to see an engaged medical staff, a great organization, wonderful facilities and a diverse patient population…and maybe when they're done with training that encourages them to join our staff."