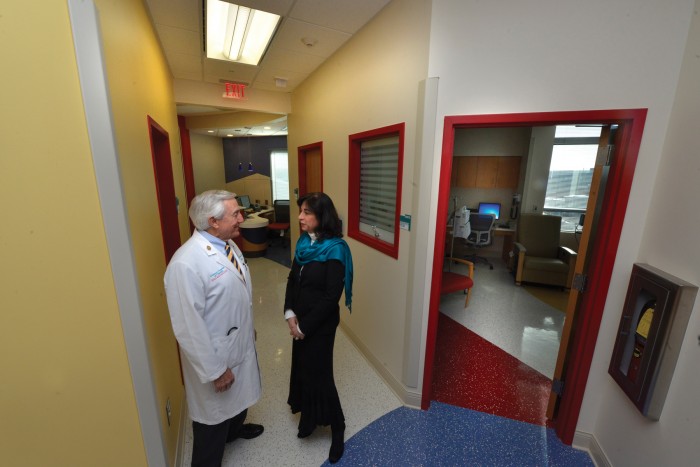 Unit Consolidates Pediatric Clinical Trials
GETTING ONE'S house in order has ripple effects. Georgia Regents University's new Children's Research Unit, a sunny and welcoming space on the fifth floor of the Children's Hospital of Georgia, is now home to GRU clinical studies aimed at improving children's health.
This consolidated space – where blood can be drawn, vital signs can be measured, laboratory work can be conducted, surveys can be completed, literature can be reviewed, and other steps in clinical trials can take place in a single area – is a boon for the health care providers conducting the studies. But the ripples spread farther still, offering streamlined convenience and access to studies for patients and their families. And there's one more ripple to go, undoubtedly the most important one of all: the impact of these studies on the general public, who will soon reap the benefits of the findings unfolding in that sunny and welcoming space.
Continuous Improvements
"WE'RE PROVIDING a safe environment where children's research can be performed," says Dr. Martha Tingen, Research Director of the unit.
The unit is some five years in the making. "The Department of Pediatrics is very passionate about patient care and education, but faculty members were frustrated at the lack of resources to conduct clinical research," says Mary Ann Park, who as Manager of the Clinical Trials Office coordinates some 128 studies campuswide.
Clinical studies are the last phase of research that has proven effective in the laboratory. The means of validating those laboratory findings in actual patients – thus expediting their incorporation into widespread patient care – is one of the defining characteristics of a teaching hospital, explains Dr. Charles Linder, Interim Chairman of the Department of Pediatrics. "CHOG doesn't just provide cutting-edge treatment," he says, "it creates cutting-edge treatment. Our basic scientists discover new or improved treatments, then our clinicians invite eligible patients to participate in the final testing phase. It's a cycle of research that enhances health care for everybody, offering continuous and ongoing improvements."
[su_pullquote align="right"]"THE CHILDREN'S HOSPITAL OF GEORGIA DOESN'T JUST PROVIDE CUTTING-EDGE TREATMENT, IT CREATES CUTTING-EDGE TREATMENT." –DR. CHARLES LINDER[/su_pullquote]
Some of the research represents degrees of improvement – say, a cancer drug that has milder side effects than those of the conventional treatment. Others represent sea changes – new drugs that save lives, for instance, or offer vast improvements in quality of life.
Advancing Science
PATIENTS' participation in clinical trials, of course, is completely voluntary and rigorously monitored to ensure their well-being. But many families, Linder notes, are happy to help advance science while at the same time likely improving their own children's health. GRU's job is to make the process as easy and convenient as possible – a commitment exemplified by the new unit, Linder says.
"We wanted to provide a facility close to where the pediatricians are," says Tingen, who holds the Charles W. Linder, M.D. Chair in Pediatrics. "We proposed using existing space in CHOG. We are thankful that [Medical College of Georgia Dean Peter F.] Buckley agreed to fund it. The unit has taken on a life of its own."
A nurse devotes 50 percent of her time to the unit – drawing blood or performing pulmonary tests on study participants, for instance – and Park organizes a pool of additional nurses available as needed. "This is a group of fantastic nurses, all of whom are committed to research," Park says. "I see it as an essential collaboration."
The project got an additional shot in the arm when Buckley nominated Tingen for the Executive
Leadership in Academic Medicine Program, a yearlong fellowship preparing women faculty for executive leadership positions. "The program requires an institutional action project, and the Children's Research Unit is this project," Tingen says. "My mentors are Dean Buckley and Dr. Michael Diamond (GRU Senior Vice President for Research), who are very seasoned at these things. They've helped me develop a strategic plan to move it forward. The goal is for the unit to eventually be a revenue-generating enterprise."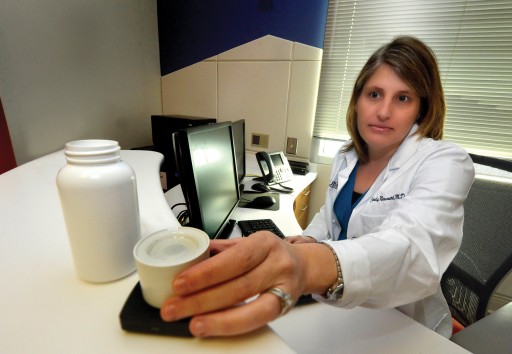 Investment in the Future
SARAH LONG, Manager of the Division of Clinical and Translational Sciences, is helping implement ILAB – an electronic lab management system – that will track the studies' revenues and expenditures. "It will help us know where to invest future dollars and ensure that our efforts are strategic," Long says.
The unit's website (gru.edu/research/cru) is up and running, offering a form for principal investigators of studies to request space or other assistance. The unit will also consider requests related to adult clinical trials.
Along with benefiting the researchers and their patients, the unit will advance GRU's mission on a larger scope as well, Tingen says. "The commitment to support clinical research is vital in recruiting new faculty," she says. "A robust clinical trials program inspires existing faculty and attracts potential ones."
Offering Solutions
THE FIRST study unfolding in the unit is one determining how to help families better adhere to sickle cell treatment. Dr. Cindy Neunert, Assistant Professor of Pediatrics, is recruiting patients to use a medication with an electronic cap that records every time it is opened. The medication, hydroxyurea, is well established to help prevent the pain crises and other complications common in sickle cell disease, a condition characterized by abnormally shaped red blood cells.
"Hydroxyurea gets the body to make more fetal hemoglobin, which is protective against cell-sickling," Neunert said.
However, if not taken daily, the pain crises will likely return. "With the electronic cap, we'll know for sure whether the medication is being taken every day," Neunert says. "That way, we can offer feedback at appointments – praising those who take it regularly or using it as an opportunity for better education for those who don't. We're offering solutions about how to work together as a team to try to improve their adherence."
Neunert sympathizes with those who have trouble adhering to the regimen, noting the demands of a chronic illness. "People are busy," she says. "If we realize the medication isn't being taken regularly, we can find strategies for reminders or come up with other techniques to help them. It's a matter of incorporating the medication into daily life. It's easy to start, but the longer you're on it, the harder it is to keep doing it."
Dr. Abdullah Kutlar, Professor of Hematology/Oncology, is the Principal Investigator of the study, which is funded by the National Heart, Lung, and Blood Institute.
Neunert has begun recruiting participants for the study and is thrilled to have the Children's Research Unit as a resource. "I think we're going to learn a lot about how to interact with our patients – how to support them and really make a difference," she says.