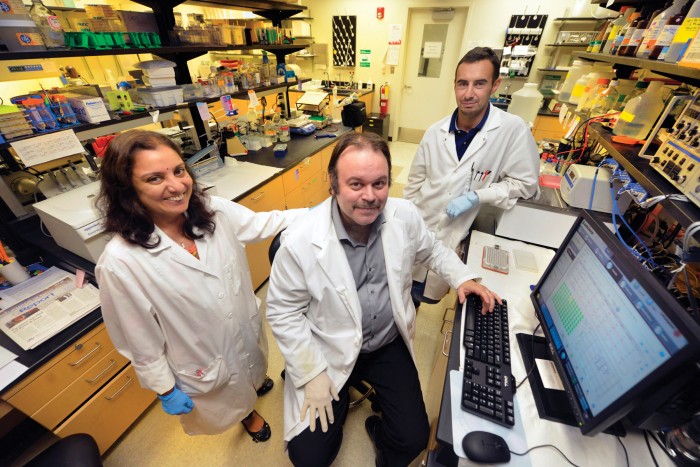 TIP ADVANTAGE
A PORTION of an immune molecule known for its skill at fighting cancer may also help patients survive pneumonia, scientists report.
A synthesized version of the tip of tumor necrosis factor appears to keep sodium channels open inside lungs' air sacs so excess fluid can be cleared, according to a study published in the American Journal of Respiratory Critical Care Medicine.
This TIP peptide is attracted to the sugar coating at the mouth of the sodium channel. Once the two connect, they move inside the cells that take up sodium to keep the lungs clear, said Dr. Rudolf Lucas, a GRU vascular biologist and the study's corresponding author.
Inside these cells, TIP binds to the most critical part of the sodium pump, the alpha subunit, and fluid starts moving again. Sodium comes in the channel, water follows, and the sodium pump pushes the fluid into the lymphatic system.
"We knew we could stimulate liquid clearance in animal models with this peptide, and we also knew we could increase the uptake of sodium," Lucas said. "Now we know more about how it works."
The research was funded by the National Institutes of Health. GRU Postdoctoral Fellow Istvàn Czikora is first author on the paper.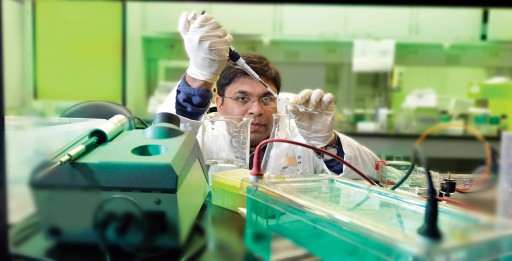 SALVAGING SYNAPSES
THE LEARNING and memory loss that can follow a brain Injury or disease has been linked to the immune cell interleukin 1ß, or IL-1ß.
GRU researchers have found that the inflammation mediator prompts production of the short-lived gas, hydrogen sulfide, impacting brain cells' ability to use food and glucose, and ultimately resulting in the destruction of synapses. "If this protein is being chewed up, neuron-to-neuron communication is disrupted," said Dr. Nilkantha Sen, a GRU neuroscientist and corresponding author of the study published in the journal Molecular Cell. "If it continues to happen, our memory will be shut down."
Loss of PSD95 already is implicated in dementia, depression, anxiety disorders, and addiction. Two years ago, Sen's studies with mice determined that stress upregulates expression of the IL-1ß receptor on neurons. The activated receptor upregulates another transmitter, hydrogen sulfide, a gas that dilates blood vessels. "It is maintained at a threshold level in every tissue of our body," Sen says. "But when it increases, it produces adverse reactions."
In this case, hydrogen sulfidemodifies GAPDH, an enzyme essentialto the brain cell's ability to use glucose. The modified GAPDH thenbinds with Siah, a protein vital todegrading improperly folded proteins.In this situation, Siah binds to anddegrades PSD95, a molecule essential to the scaffolding of the synapses. Sen and his colleagues write that Siah's attack on PSD95 may be a general mechanism for inflammationassociated synaptic and memory damage.
Sen calls it "a completely novel mechanism" that he hopes will translate to a novel therapy for several neurodegenerative disorders as well as brain injury.
MAINTAINING STEM CELLS
GRU SCIENTISTS have found that a biological fat with a sugar attached is essential for maintaining the brain's store of stem cells. Neural stem cells help the brain develop, then repopulate brain cells lost to normal turnover, trauma, or disease. While the cell population and activity decrease as a natural part of aging, the scientists are studying how neural stem cells are normally maintained with the long-term goal of helping the supply stay robust despite aging and infirmity.
They have discovered that in mice missing the sugar containing lipid ganglioside GD3, neural stem cells are dramatically less able to selfrenew, said Dr. Robert K. Yu, a GRU neuroscientist and corresponding author of the study published in The Journal of Neuroscience. He and his colleagues focused on brain areas with typically the largest supply of neural stem cells, the subventricular zone and hippocampus.
Mice missing ganglioside GD3 on the membranes of neural stem cells had much smaller supplies of the cells in these key areas throughout life and expressed signs of despair – for instance, not seeking land when placed in water, Yu said. The mice also had impaired maintenance of the areas of the brain involved in smell and memory formation. The changes, which correlate with aging or illness, were corrected when GD3 was restored.
"If GD3 is missing, we found these neural stem cells cannot be maintained throughout life; they are
reduced by a big percentage even in a one-month-old mouse," said Dr. Jing Wang, MCG postdoctoral fellow and the study's first author. The scientists hope to manipulate levels of growth factors and sugar-containing lipids to ensure a steadier supply of neural stem cells throughout life. The studies were funded by the National Institutes of Health and the Department of Veterans Affairs.
OPENING DOORS
THE GRU CANCER CENTER has received one of 12, five-year National Cancer Institute grants to improve access to clinical trials and cancer treatments for minority and underserved patients.
Working with the Morehouse School of Medicine, University Cancer and Blood Center, and the Jiann-Ping Hsu College of Public Health at Georgia Southern University, the consortium will help design, conduct, and translate the research agenda of NCI's Community Oncology Research Program by setting priorities for community-based cancer research and addressing barriers that could impede participation in clinical trials.
The initiative complements another effort (see back cover) to enhance cancer treatment among minority and underserved populations.
INNOVATOR AWARD

DR. SATYANARAYANA ANDE, a GRU Cancer Center researcher, has received the National Institute of Health Director's New Innovator Award for his studies on obesity treatment. The $2.3 million award is one of only 50 nationwide and the only one awarded to a researcher in Georgia.
The award supports researchers pursuing innovative projects with high-impact potential. Ande studies the depletion of fat deposits in white adipose tissues and the exploitation of energy expended by brown fat.