Meador, Payne Honored for Achievement, Loyalty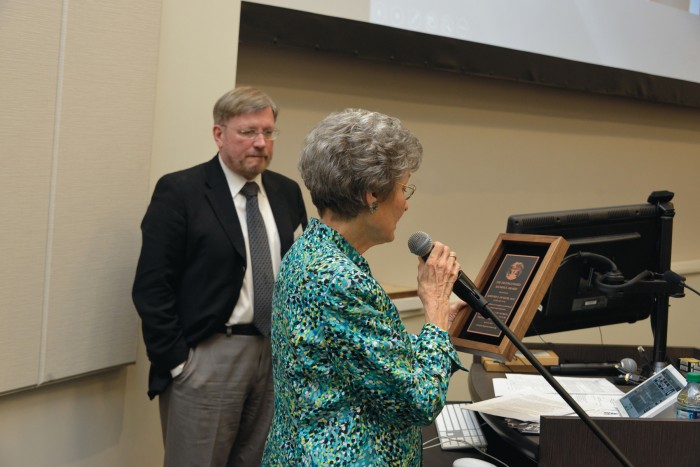 A neuroscientist who has advanced numerous facets of cognition research and an obstetrician/gynecologist pivotally involved in the well-being of Georgians throughout his half-century career are recipients of 2015 Medical College of Georgia Distinguished Alumni awards.
Dr. Kimford Meador, a 1976 MCG graduate who completed a neurology residency at his alma mater, was named MCG's Distinguished Alumnus for Professional Achievement. Meador, who completed a behavioral neurology fellowship at the University of Florida, served on the MCG faculty from 1984-2002, ultimately serving as a Charbonnier Professor of Neurology. He chaired the Georgetown University Department of Neurology from 2002-04 and was the Melvin Greer Professor of Neurology and Neuroscience from 2004-08 at the University of Florida, where he also directed the epilepsy program and clinical Alzheimer's research program.
Meador served as professor of neurology and pediatrics at Emory University from 2008-13, where he served as director of epilepsy and director of clinical neuroscience research. He joined the Stanford University faculty in 2013.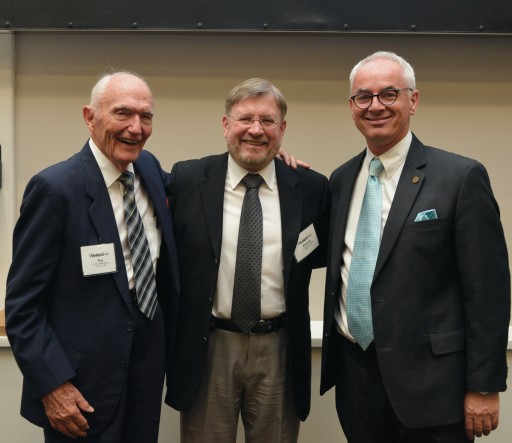 He has authored or co-authored 300 peer-reviewed publications regarding cognition, cerebral lateralization, perception/consciousness/memory, epilepsy, functional imaging and other aspects of neurology. He has served as principal investigator for a long-term National Institutes of Health multicenter study of pregnancy outcomes in women with epilepsy and their children.
Meador received a Resident Teaching Award, Outstanding Young Faculty Award in Clinical Sciences and Distinguished Faculty Award for Clinical Research during his MCG tenure. He has also received the American Academy of Neurology Lawrence C. McHenry History Award, the American Epilepsy Society Dreifuss Abstract Award and the American Epilepsy Society Clinical Research Award. He is a fellow and diplomate of the American Neurological Association and a past president of the Society for Behavioral and Cognitive Neurology and the Southern EEG and Epilepsy Society.
Dr. Peter Michael Payne, an Augusta native who earned his MCG degree in 1964, was named MCG's Distinguished Alumnus for Loyalty. He completed a rotating internship at University Hospital and an obstetrics/gynecology residency at MCG.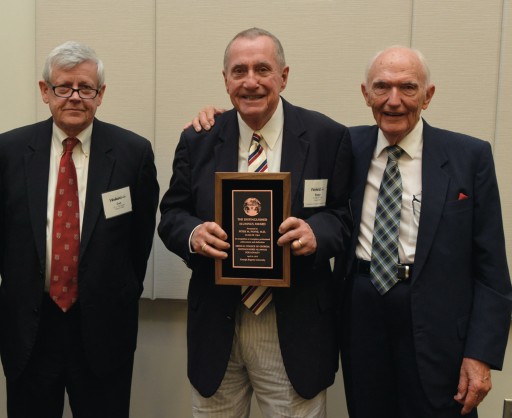 Payne served in the U.S. Navy from 1965-67 and in the U.S. Naval Reserve from 1961-74. He has served on the medical staffs of Georgia Baptist, St. Joseph's and Northside hospitals in Atlanta; Athens Regional Medical Center and St. Mary's Hospital in Athens, Georgia; and MCG Hospital (now Georgia Regents Medical Center), University Hospital and the Department of Veterans Affairs Medical Center in Augusta. He was the OB/GYN residency director at Georgia Baptist Hospital and director of the University of Georgia Health Service Women's Clinic.
Payne, a clinical associate professor at MCG, formerly was the OB/GYN practice site director for MCG's Ambulatory Care Center. He is secretary and a board member of the MCG Foundation. Payne is a lifetime member of the MCG Alumni Association and serves on its board of directors. He is a past president and past secretary/treasurer of the MCG Alumni Association.
He is a member and past president of the Richmond County Medical Society Board of Trustees. He serves on the Richmond County Medical Society Board of Directors for Project Access and is an active member of the Medical Association of Georgia's House of Delegates. He is the membership chairman for the Augusta Obstetrical and Gynecological Society.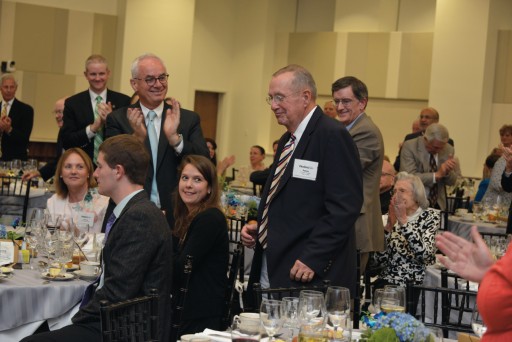 Payne is a diplomate of the American Board of Obstetrics and Gynecologists, a member of the Georgia Obstetrical and Gynecological Society and a fellow of the American College of Obstetricians and Gynecologists. He received the Association of Professors of Obstetrics and Gynecology Excellence in Teaching Award.