Augusta University Division of Communications and Marketing wins Target Awards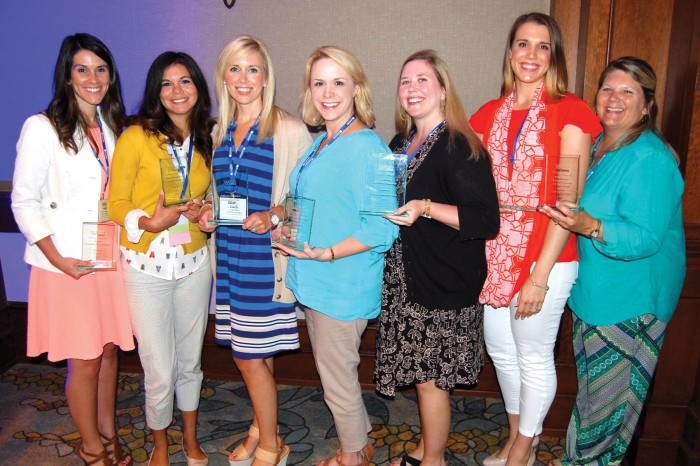 The Augusta University Division of Communications and Marketing, including Augusta University alumni Cathleen Caldwell (BA, Communications '00) and Clarissa Chavez (BA, Communications '14), earned seven Target Awards, including two gold awards, from the Georgia Society for Healthcare Marketing and Public Relations during the 20th Anniversary Target Awards.
Entries in this year's competition were judged by the New England Society for Healthcare Communications based on creativity, layout and design, functionality, message effectiveness, production quality and overall appeal. Georgia hospitals submitted more than 185 entries in 26 various public relations, marketing, design and advertising categories.
Gold awards were presented to Augusta University in the following categories:
• Direct Mail – Children's Hospital of Georgia direct mail campaign
• Fundraising – Media relations efforts for ALS Walk and ice bucket challenges Silver awards were presented for:
• Patient/Customer Relations – GRHealth VIP Patient Portal
• Websites – GRHealth Web Redesign
• Social Media Marketing – GRHealth Your Health Matters
• Digital Advertising – Children's Hospital of Georgia Digital Campaign
• Media Relations – Children's Hospital of Georgia ER Open House
1970s
Janet Hagerman (BS, Dental Hygiene '71) was a featured guest on The Dentalpreneur Podcast and spoke about how she has used her 30 years of clinical experience to help dentists communicate more effectively with their patients. She is the author of the books "Selling Dentistry-Ethically, Elegantly, Effectively" and "Meetings Make Money."
Dr. Marjorie Herring McNeill (BS, Medical Record Administration '76) received the American Health Information Management Association 2015 Educator Triumph Award and the Florida Health Information Management Association 2015 Educator Award.
Dr. John Turrentine (MD '79) was awarded a PhD in American History from Trinity University. Turrentine performs first-person historical characters at numerous universities and civic clubs. He also has written a book exploring the Founding Fathers and their spiritual beliefs that is being published this fall.
>1980s
Karin Gillespie (BA, Psychology '82) published her sixth book, "Girl Meets Class." She also writes a popular book column for the Augusta Chronicle, is a humor columnist for Augusta Magazine, writes book reviews for the Washington Post, and teaches part time in the Department of English and Foreign Languages.
Daniel Lucas (BA, Psychology '86) celebrated his 10th anniversary as director of publications for the nonprofit United States Chess Federation. Chess Life, the magazine he edits for US Chess, will celebrate its 70th anniversary as a publication in 2016.
Bill Phillips' (MBA, Administration '86) company, Countersync, was voted Best Countertop Company in the CSRA for the fifth year in a row by the readers of Augusta Magazine. Phillips purchased Countersync in 2009.
Dr. Martha Smith Tingen (MSN '83) graduated from the Executive Leadership in Academic Medicine® Program, the only program in North America dedicated to preparing women for senior leadership roles in academic health science institutions.
Phil Wahl II (BBA '87) published "Are Small Businesses Missing a Big Opportunity?" in the summer 2015 issue of the national Phi Kappa Phi FORUM.
>1990s
Dr. Nicole Broerman (MD '96) returned to her home state to care for children at the Reddy Pediatrics Practice in Athens, Georgia. She previously practiced in South Carolina, where she received the Award for Outstanding Service, South Carolina Physician of the Year from the S.C. Department of Health and Environmental Control Commissioner
in 2009.
Dr. Arthur E. Constantine (MFRI '93) published "The Importance of Metaphors in Medicine" for the website thedoctorsblog.com and is the author of "It's Always the Heart." He is a cardiologist at the Heart Group/St. Thomas Heart at St. Thomas Hospital in Nashville, Tennessee.
Melita McGahee Lowe (BA, Psychology '93) received a Master of Social Work degree from Winthrop University.
Dr. Robert "Kelly" Michael (BSN '93; MN, Pediatric Nurse Practitioner Program '97) completed his Doctor of Education degree at The University of Alabama in Tuscaloosa. Michael accepted a position as an assistant professor of nursing at Angelo State University in San Angelo, Texas.
Dr. Scott Miller (MD '90) was named to Atlanta Magazine's 2015 list of Top Doctors. This is Miller's seventh year in a row on the prestigious list. He also received recognition from Castle Connolly Medical Ltd. as one of America's Top Doctors.
Dr. Donna Thomas Moses (Certificate in Periodontics '92) was reappointed by Governor Nathan Deal to Georgia's Board of Community Health. Moses is the founder of Periodontics, Implant Dentistry and TMJ in Carrollton, Georgia.
2000s
Dr. Charles Todd Bruker (MD '02) joined Lakeland, Florida-based MicroPath Laboratories. Bruker is a board-certified hematopathologist and anatomic/clinical pathologist.
Mie Lucas (BA, Psychology '08) was elected president of the Georgia Regents University Alumni Association. Lucas currently serves as deputy director, disaster preparedness coordinator, for the Augusta-Richmond County Emergency Management Division.
Drs. David R. Sprayberry (MD '01) and Carrie C. Kelly (MD '05) joined St. Mary's Medical Group to form Hometown Pediatrics in Athens, Georgia.
Lindsay Thedford (BA, Communications '08), marketing manager at Doctors Hospital in Augusta, Georgia, will marry Steven Andrew Black on Dec. 31.
Dr. Samir Vira (MD '08) has joined Milan Eye Center in Marietta, Georgia. Vira is a board-certified ophthalmologist with fellowship training in corneal disease and LASIK-refractive surgery.
>2010s
Michael Cosper (BBA, Finance '14) married Callie Hagler on June 13.
Cosper works as a staff accountant at Serotta Maddocks Evans, CPAs in Augusta, Georgia.
Darlene Dowdy (BSN '15) is working at Shelby Baptist Medical Center in Alabaster, Alabama.
Dr. John Edry (MD '11) joined St. Mary's Neurological Specialists in Athens, Georgia.
Benjamin Hagler Jr. (BBA, Management '12) is engaged to be married to Eva Watts of North Augusta, South Carolina. The couple will wed on Oct. 1, 2016, in Augusta, Georgia.
Elisabeth Hagler (BSN '15) married Benjamin Carroll of Johns Creek, Georgia, on March 14. Hagler is a registered nurse at Charlie Norwood VA Medical Center in Augusta, Georgia.
Dr. Arvind Movva (MFRI '10), CEO of Gastroenterology Consultants, spoke at the Becker's ASC 22nd Annual Meeting—The Business and Operations of ASCs, in Chicago.