Dr. Roy Witherington tends his alma mater as carefully as he tends his garden
"Things in Florida don't quit growing, they grow year-round," Dr. Roy Witherington says with a laugh as he stands in front of a bougainvillea, clippers in hand.
Once a farm boy, always a farm boy.
The Medical College of Georgia graduate ('53) and former chief of the Section of Urology in the Department of Surgery may spend his days a little more quietly now at his home in Sarasota, Florida — far different from when he drove a tractor at his family's working farm in Pineview, Georgia, as a boy, or when he was performing radical cystectomy and other cutting-edge surgery inside a hospital operating room — but his memories are just as sharp, and his love for his alma mater just as keen today as they were then.
In fact, Witherington recalls giving his very first gifts to MCG more than 35 years ago. "They were smaller amounts at that time," he says with a chuckle. "We didn't have a whole heck of a lot — and still don't have a whole heck of a lot." But time has a way of making gifts grow, and today, Witherington's giving totals about $1 million in student scholarships. This includes a scholarship bearing his name and one for his Class of 1953; in addition, a learning community in the Harrison Commons also bears his name, and he has given an additional $250,000 for a distinguished chair in urology, which is currently held by Dr. Martha Terris, chief of the urology section.
But Dr. W, as he's called by his past students, just takes it in his typical humble stride: "Quite frankly, as long as I have it to give, I plan to give it to MCG."
The funny thing is, Witherington almost didn't make his career at MCG. He became a physician thanks to the advice of his veterinarian father, but when it came time to start his practice, he planned to join another urologist in Macon. At the same time, his daughter turned 6 and was ready to start school — but there weren't good options in Macon at that time.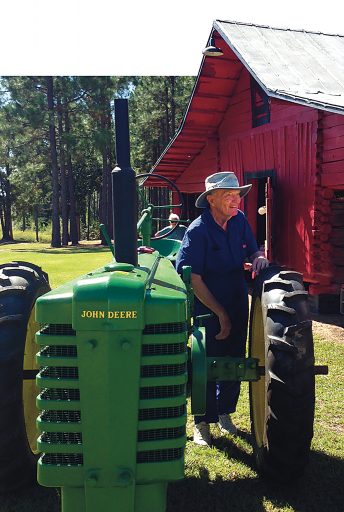 Torn between family and career, Witherington listened to the advice of his mentor and chief of the urology section at MCG, Dr. Robert Rinker. "He said, 'Roy, why don't you stay here? We can get you a part-time job at the medical school, and you can have a part-time private practice also.'"
It was an unusual situation at the time, Witherington recalls. Most physicians at MCG were full-time and community physicians were community physicians, and never the twain should meet — but somehow Rinker made it happen. Which positioned Witherington in the right place at the right time when Rinker retired, and he was asked to return full-time to his alma mater as chief of the urology section.
Witherington deliberated over the decision, going so far as to write out a list of pros and cons — the biggest con being that he enjoyed his very successful private practice. Just as before, the good advice of a friend helped him make the decision: A fellow classmate, John Phinizy, told him, "Roy, go back, and if you don't like it, you can always go back into private practice."
Simple, but effective. "It was the catalyst that allowed me to do it," says Witherington, "and I had a lot of fun. I really enjoyed it."
Witherington recalls now that his tenure at MCG not only gave him the opportunity to perform a wide spectrum of surgeries — from tiny circumcisions to huge surgeries like placement of artificial bladders in cancer patients — but also to embrace his passion for teaching. Teaching, he felt, was an occupation that would make his life even more worthwhile. And it turned out to be the case. "Being a urologist at MCG created a life for me that couldn't be beat," Witherington says.
It's partly why student scholarships have been a key part of his donations back to the medical college. Witherington was fortunate in that he didn't require a scholarship himself, but: "MCG didn't have to take me as a student. But they did, and as a result, I was able to become a physician. The result of that was I was able to become a urologist … MCG did so much for me and continues to do so much for me … so I want to give some of it back."
Witherington is particuarly focused now on growing the Class of 1953 scholarship. He admits, "I waited too long; we're getting old," but he's optimistic that he and his remaining classmates will soon be able to grow the fund to seven figures, allowing them to support a student all the way through his or her medical education at MCG. "It would be a wonderful accomplishment," he says.
In a way, Witherington's dedication to his alma mater harkens back to his days on the farm — which he still owns and where he'll often retreat to putter about on his father's 1941 John Deere tractor. It's the idea of giving something back to what sustained you, growing and nurturing it, and seeing fresh new life come to fruition. "I think that anyone who graduates from MCG or from any other professional institution shouldn't just graduate and walk away," he says. "You owe them something."
In fact, he never planned to retire from medicine. When he left MCG in 1997, Witherington took his old classmate's advice and went back into private practice part-time alongside former residents, now practicing physicians, he'd taught at MCG. "I planned to keep on going as long as health permitted," he says. But love intervened; a widower for eight years after his wife, Louise, died from lymphoma, Witherington met his second wife, Sondra, while on a trip to China. She was in the same tour group — "and the rest is history," he says with a laugh, with Sondra even convincing this born-and-bred Georgia boy to put down roots in her hometown of Sarasota.
Now in his Florida garden, Witherington is back to pruning those bushes, which continue to flourish under this farm boy's care. He's happiest when there's dirt under his fingernails, he says, and there's plenty more room to grow.
On the Road
The words "1963 Ford Galaxie 500" would make any car lover's heart flutter, but throw in the descriptor "fire engine red"? Dr. Roy Witherington says the words with emphasis and an impish grin.
The Galaxie is what you might see Witherington driving around town during his trips to Augusta and to the Medical College of Georgia: "When I get to the condo, the first thing I do is make sure to crank it up," he says. But also in his collection are his father's 1941 John Deere tractor, which he drives in local parades in Pineview; a white 1956 Buick with a black top, completely original other than the tires, fan belts and batteries; and a 1932 Ford farm truck. The Buick is currently being restored to show quality. "Old tractors and old cars are my major non-farm thing," he says.