Alumna Helps DCG Students Contribute  to Raising Dental IQ
Editor's note: This is the fifth in a series of Word of Mouth articles highlighting community-based dental rotation sites for seniors.
In a recent conversation, Dr. Vanessa Downer wracked her brain for a name on the tip of her tongue but came up dry. "I know people by their teeth," she says with a laugh.
But make no mistake: Downer may not remember the name of every patient and student who has crossed her path throughout her 30-year dental career (their numbers are voluminous), but she has definitely left her mark on their lives. And they on hers.
Expanding Horizons
Downer, who grew up in Albany, Georgia, had dreamed since childhood of a health care career, not only because she loved science, but because she yearned to address a disparity she noticed at a very young age: Very few health professionals in her community looked like her. In other words, very few were African-Americans.
"I wanted to help underprivileged people and give them a better quality of life," says Downer.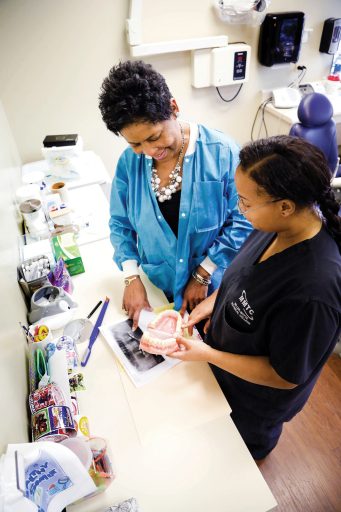 After earning a biology degree from Albany State College (now Albany State University), she enrolled in The Dental College of Georgia. "I really enjoyed it," says Downer. "I made a lot of new friends, and the experience expanded my horizons in a lot of different ways. It was more than I expected; it really enhanced my life."
She also met her future husband at the DCG (Dr. Tommy Downer, '86), and after she graduated in 1987 and worked in Albany, Georgia, for a year, they embarked on both a personal and professional lifelong journey. When they married in 1988, Downer joined her husband in Columbus, Georgia, where he had a private practice, and she worked in public health, commuting to Stewart Webster Rural Health Clinic in nearby Richland, Georgia. "It was a rural health clinic, and patient dental IQ was very low at the time," she says. "Many of my patients, for instance, thought the only way to treat a toothache was to pull the tooth."
Dental IQ
As extensive as their problems were, Downer considered it a profound privilege to treat and educate them. "I got to help a lot of people and help raise their dental IQ," she says.
She practiced there for approximately 18 years while also working part time at the Columbus Health Department. She signed on with the health department's West Central Health District full time in 2005 and has been there ever since, not only treating underserved patients, but mentoring DCG students who rotate through her clinic.
"This district is comprised of 16 counties, and when I initially started, we treated mainly children," Downer says. "Now, we treat all ages, from babies to the elderly." She averages about 25 to 30 patients a day, including those she visits in a mobile unit.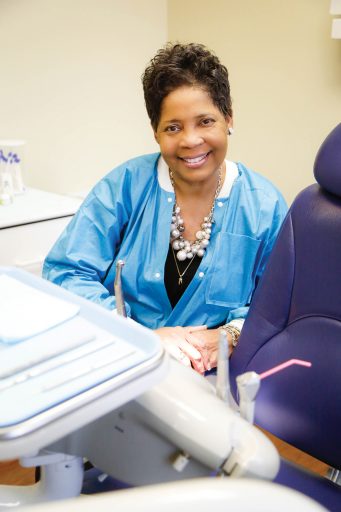 A Small-Town Feel
Downer, a mother of two, is gratified to see firsthand how dentistry has evolved over the years, particularly regarding public health. "People in general do a good job taking care of their oral health these days. Dentistry has really made a lot of progress with things like fluoridated water and education. Most people know now, for instance, not to put babies to sleep with a bottle of milk or sweetened beverages. I don't see nearly as many problems as I did when I first started practicing. The vast majority of my patients are very compliant with oral hygiene."
The DCG students, she says, are a big help — and receive a big dose of education in return. Two students per semester generally rotate through the clinic. One of the most recent was her niece, Dr. Jasmine Edwards ('16), who now practices at Albany Area Primary Health Care in Albany, Georgia. "It was a thrill to work with my niece," Downer says. "I enjoy all of the students. A lot of them come from small towns, so they're used to the environment."
The clinic offers them a nice mix, she says, that they may find unavailable at other rotation sites. "We've expanded to include patients with private insurance," Downer says. "These are patients who could go elsewhere if they wanted, but they choose to come here. That's very gratifying."