It was a July day in 2007 when Vera Nolfe Anderson's husband, Andy, helped her prepare for the arrival of a guest, the family pastor.
Preparation was no small matter. Vera was in the late stages of amyotrophic lateral sclerosis, or Lou Gehrig's disease, a devastating and incurable form of nerve cell degeneration that causes gradual paralysis. At this point in the disease progression, Vera was almost totally paralyzed and relied on her husband for everything — eating, bathing, grooming, even changing positions in bed.
"I was completely devoted to her, and everything I did for her was a privilege," says Andy, who met his wife in 1982 at Fort Sill, Oklahoma, where she was a colonel in the Army and he was a captain.
At the time they met, Vera had already made an indelible mark on the Army Nurse Corps, including treating President Dwight D. Eisenhower and many other VIPs at Walter Reed Army Medical Center. She was a few years Andy's senior, but he was dazzled by her warmth, independence and lively personality.
Their relationship was nothing short of idyllic. Andy, thrilled to have found his soul mate, brought her flowers every Friday and exchanged thousands of "just because" love notes during their 23-year marriage. They traveled, gardened, golfed, cooked gourmet meals and indulged in other mutual hobbies, living life to the fullest.
When she was diagnosed with ALS in September 2006, they faced the news with courage, stoicism and an unflagging devotion to their marriage vows. "Vera wasn't bitter or angry," Andy said. "She had not a single regret and was grateful for the good health she'd enjoyed up to that point. We had our share of tears, but her last months were mostly spent in reflection and appreciation for a life well-lived."
That July morning, after dressing Vera, styling her hair and propping her up to await their visitor, he left the room for a quick cup of coffee — then returned to find she had peacefully passed away.
Andy was heartbroken, yet determined that his wife's legacy would live on. Shortly after her death, he established a scholarship in her name: the Col. Vera Nolfe Anderson Memorial Scholarship Endowment, a means of easing the financial burdens of select high-achieving Augusta University nursing students pursuing an Army career.
This year — the 11th year a scholarship has been awarded — the endowment exceeded $100,000, over $10,000 of which was donated in 2017. "I am just so thrilled," Andy said. "Additionally, we've given $42,000 in scholarships so far. It is extremely gratifying that so many of Vera's friends and loved ones have made contributions, and I've had the honor of learning how she touched their lives. For instance, those who served with her in the military talk about what a great mentor she was. Vera also traveled the country during her career recruiting people to the Army Nurse Corps. It meant so much to her, and she clearly made a big impression on those who crossed her path."
Even people Vera never met have stepped up. For instance, when Andy met and began dating a member of the Augusta University College of Nursing faculty a year or so after Vera's death, his new love found herself deeply touched by his widow's legacy. "She has been a big contributor to the scholarship ever since," said Andy of the woman he married in 2011, Dr. Lori Schumacher Anderson.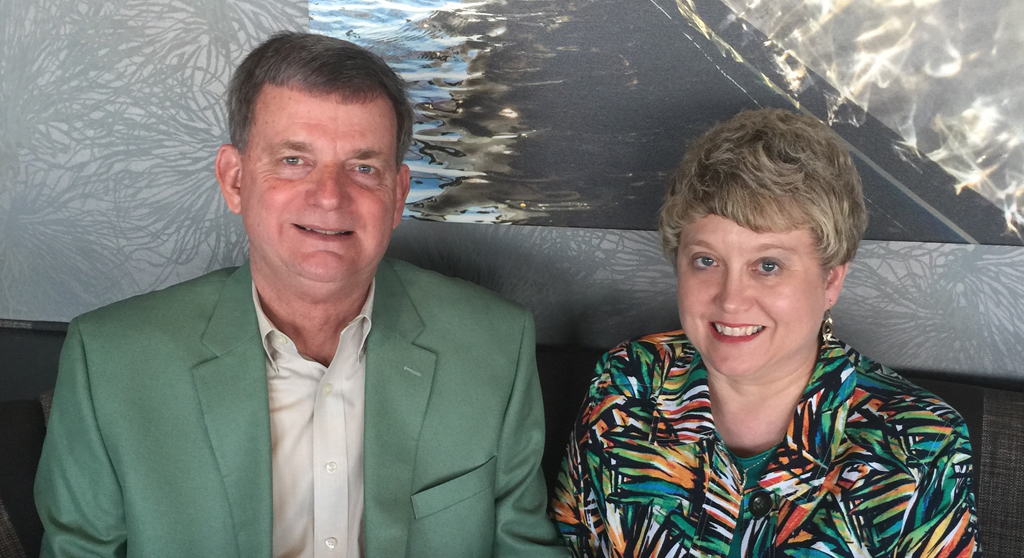 Lori, who recently accepted a position as dean and assistant vice president of Tusculum University in Greeneville, Tennessee, "has been very accepting and loving of my need to continue to honor Vera's life," Andy said. "I feel so lucky I found someone like her."
He notes that "as the years have passed, I still occasionally shed a tear for Vera. But now, instead of grieving, I concentrate on my memories and am so thankful for what we had in our life."
Knowing that her legacy lives on, he said, is one of his greatest sources of comfort. "She would be very happy," Andy said, "that others are benefiting from the generosity of those who loved her."
To make a tax-deductible contribution to the Col. Vera Nolfe Anderson Memorial Scholarship Endowment (fund #6004P), contact Kim McNeely at the MCG Foundation, 706-823-5500.