Day job: Associate Dean for Student Affairs,
Second-Year Class, Medical College of Georgia
Secret life: Snow globe collector
When Dr. Greer Falls went on his first — and last — ski trip in March 1985, he may have been just a couple of years into his 34-year career at the Medical College of Georgia, but he was seasoned enough to know when to take advice. So when some of the more accomplished skiers suggested he take lessons, he signed up on the spot.
But while the lessons may have prevented broken bones, they weren't without consequences.
"That night, every muscle in my body ached," he says, looking back at the ordeal. "So the next day I decided to skip my third lesson and just relax — and with that, I found my first snow globe to commemorate the experience."
Eventually, that snow globe — meager by today's standards, but actually a snow globe rather than the glitter globes so prevalent today — was joined by snow globes from other trips and other journeys until now, more than three decades later, Falls has amassed 90 or so in his office with another 50 or more at home.
And while a collection that big can be a bit overwhelming to the uninitiated, it's also a tangible example of an important lesson: the need to unwind.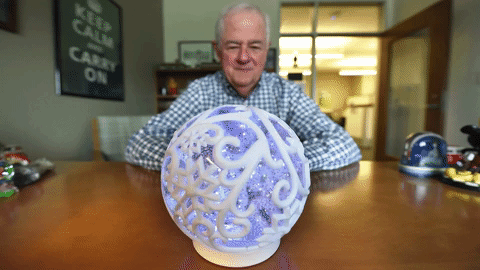 "For any profession, but I think the medical profession is a good example, you need an escape," Falls says. "Whatever your escape is, you need it. It's something we push with our current medical students. We ask the question, 'What do you do outside as a release from the day-to-day activities that you're involved with in medical school or the medical profession?'"
For Falls, that escape has increasingly become Walt Disney World — many of the snow globes represent trips to the Magic Kingdom and its associated parks. An annual pass holder, he currently averages about four visits a year and jokes about eventually driving a bus for Disney when he finally retires for good.
And while he's stepped up his traveling since retiring as full-time faculty in 2017, the post-9/11 world has made packing his snow globes for the return home a bit of a challenge.
"After 9/11, snow globes came under TSA regulations," he says. "At first, there were no snow globes allowed in carry-ons, and then, if it fit in your baggie, it was OK."
He fondly remembers a TSA agent at LaGuardia Airport in New York City helping him force a snow globe into an overstuffed plastic storage bag.
"We'll make it fit," she told him.
And they did — which is why he loves to have them around him. Each snow globe has a story, and every story brings a smile.