Personal connections.

That's what Myra Morris, who earned her DCG dental degree in May, considers the most important part of a project that was near and dear to her heart throughout her dental education.

Morris was heavily involved in the DCG chapter of the Student National Dental Association, which sponsors the annual Impressions Program to familiarize select teens and young adults with dental school. Some 180 undergraduates and a handful of high school students attended the DCG's 2020 event, held Feb. 22 on campus.

"The connections are key," said Morris as she volunteered for the event. "Attendees actually get to meet our faculty while they're here and go through mock admissions interviews. The faculty remember them when they come back for their actual interviews."

The mock interviews are only one aspect of the experience, which also includes tours, hands-on demonstrations, and a keynote address by an esteemed dentist. This year's keynote speaker, Dr. Alfred Wyatt Jr. ('84), told the attendees, all of whom are considering dental professions, that "we aren't just taking care of teeth; we're taking care of people."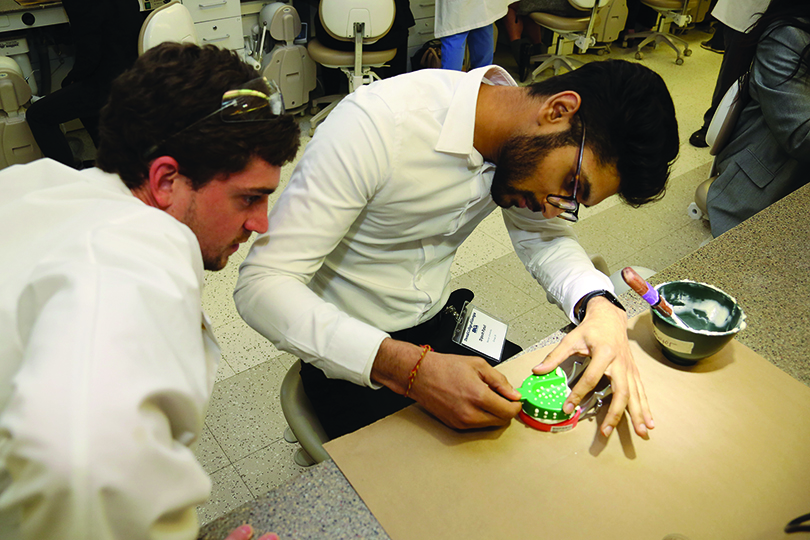 Attendees agreed that the day's events were a big help in refining their career choices.

"I really enjoyed the hands-on experience, and I learned a lot about the different career opportunities available in dentistry, including things I'd never really thought of, like research, product development and academia," one said. "I've always wanted to go into health care, and it's enlightening to know that the profession is so versatile."

The DCG chapter introduced Impressions Day in 2000, and it has since been incorporated into SNDA chapters nationwide. SNDA, formed in 1972 to promote, aid and support the academic and social environment of minority students, considers the program an excellent way to address each aspect of its four-pronged mission: diversity, outreach, mentorship and excellence.

Past participants who went on to dental school have offered glowing testaments about its impact, noting opportunities for networking that led to long-term friendships and mentors. They also concurred that the event's activities eased the stress of the application process and afforded sneak previews of the environment they encountered upon admission.

"That's our goal," says Morris. "We want to do everything possible to ease the process for those following in our footsteps."