I have been thinking a lot lately about partnerships, and how essential they are to our success as people, as professionals and to the success of the institutions we are privileged to serve.
These days at MCG, as we transform and expand our core mission of educating the next generation of physicians and physician scientists to better meet the realities of the diverse, booming, aging population of our state and beyond, it is crystal clear to me how inherent great partnerships are to MCG's success and — I say this with humility — MCG cannot fail. Because for nearly 200 years now, this great public medical school has contributed immeasurably to helping people live better. And there is still so much work to do.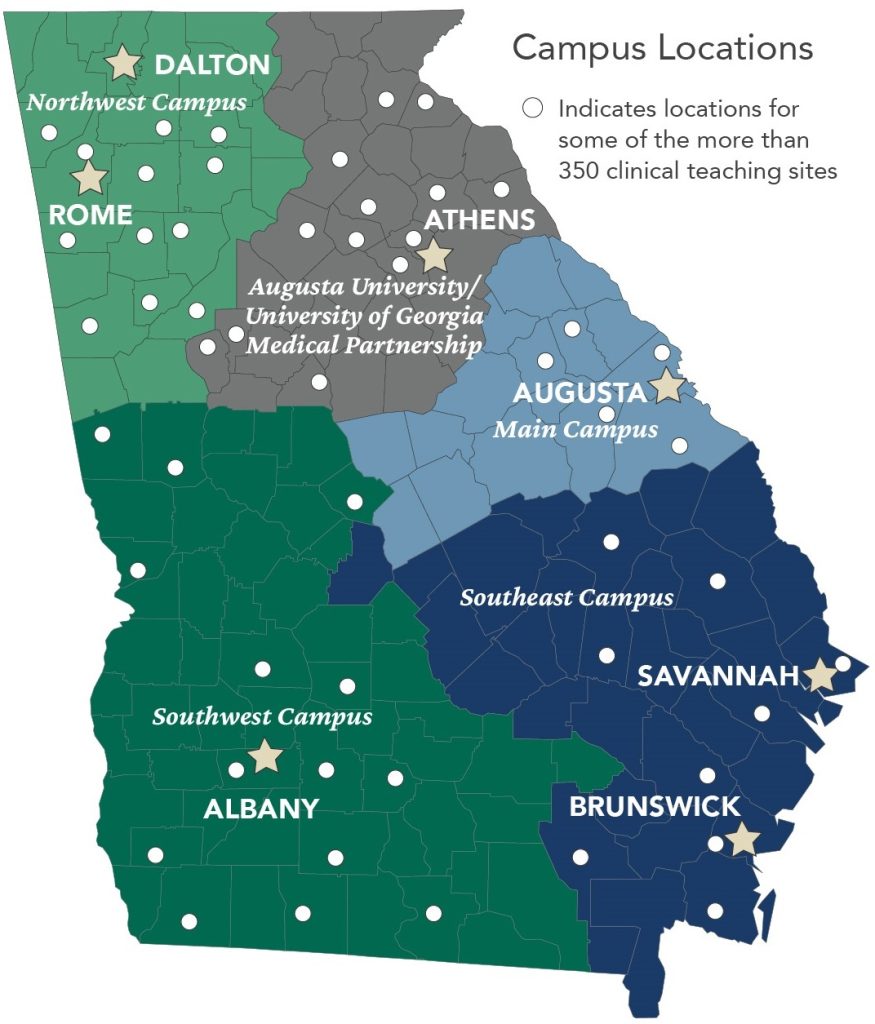 Traveling our great state and the MCG campuses and partnerships across it — including clinical campuses based in Savannah/Brunswick, Albany and Rome where students hone their clinical and patient skills, and our second, four-year campus in Athens in partnership with the University of Georgia — I cannot help but be struck by the relationships that connect so many people and institutions to strengthen the whole.
And, I am thankful for the insight of previous leaders who took these literal stands across our state to enable MCG to better serve one of the nation's fastest growing and geographically divergent states, that includes Atlanta, one of the country's larger cities, as well as some of its smallest, like Edge Hill in nearby Glascock County with a population of less than 10 in 2020 and a land mass of just .2 miles.
There is no question that without the contributions of a steadily increasing number of individual physicians, physician practices, hospitals, Community Health Centers and Federally Qualified Health Centers across our state, we could not serve our state, never mind grow to serve it better. And we are growing.
MCG had the 9th largest medical school class size in the nation last year — we had 260 students per class at that ranking, moved to 264 this year and plan to be at 300 by the time we turn 200 in 2028. Which is why we need even more great partners.
Ones like Dr. Paul Brock, a tireless general surgeon at the famed Harbin Clinic in Rome, Georgia for multiple decades, a graduate of Emory University School of Medicine, who is an unbelievable mentor for our students as well. He is site clerkship director for surgery at our Northwest Campus who takes our students with him when he goes for surgery cases at Atrium Health Floyd and AdventHealth Redmond, says Vicki Wiles, clerkship coordinator at our Northwest Campus. "It's personal," she says of Dr. Brock's interest and approach. If a student has a particular interest, he will ensure they get that experience as well, then take them out for coffee and doughnuts. That dynamic, close relationship with physicians and patients is one of the many things our students rave about at our regional campuses. And, it's because of people like Dr. Brock, who clearly have "skin in the game."
Dr. Brock's friend and kindred spirit, Dr. G. Waldon Garriss III, is another. Boarded in both internal medicine and pediatrics, Dr. Garriss, a graduate of the University of North Carolina at Chapel Hill, travels to Rome to teach our students and welcomes them to his practice at WellStar Kennestone, where he also leads the internal medicine residency program he helped build. He is also governor of the Georgia Chapter of the American College of Physicians and a true physician's physician.
What these two accomplished, busy physicians, educators and individuals do for their profession, their state and for MCG is another immeasurable. They are the definition of quintessential partners.
So is Paul Hinchey, president and CEO of St. Joseph's/Candler, two innovative, modern hospitals whose roots, like MCG's, date back to the 1800s and who today we are fortunate to have serve as home base for our Southeast Campus. Mr. Hinchey is what we hope hospital CEOs will be: Savvy but compassionate, with great instincts about people and the work that needs to be done to ensure the business success that ensures excellent service to the community. In the early conversations more than a dozen years ago, he intuitively got how having our students in that region of the state was an incredible benefit to those students, to MCG, to his hospitals and to the Southeast part of our state. Starting this January, we will double the number of students we have living and learning down that way.
Today, with our largest class ever walking in our doors, and with so much work still ahead, I have an overwhelming sense of gratitude for the partners that we have, an excitement about opportunities to grow those relationships and great anticipation about new partnerships ahead.
Their support and yours is invaluable to the Medical College of Georgia.

David C. Hess, MD
Dean, Medical College of Georgia
Executive Vice President for Medical Affairs and Integration, Augusta University
Presidential Distinguished Chair