About one-fifth of often deadly head and neck cancers harbor genetic mutations in a pathway that is key to normal cell growth, and scientists report those mutations, which enable abnormal cancer cell growth, can also make the cancer vulnerable.
Keys to targeting that vulnerability include individualized genomic analysis to identify a patient's specific mutation, and finding the drugs that directly target it, investigations that should be given more attention in cancer therapy development, they report in a review article in the journal NPJ Genomic Medicine.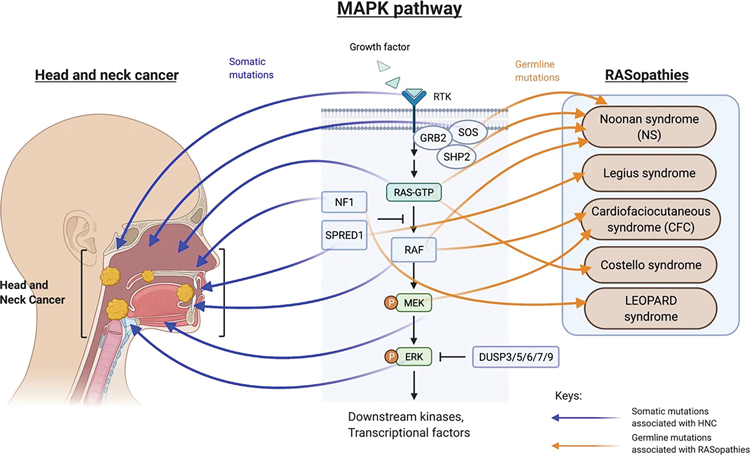 The MAPK pathway is a "signaling hub" for cells important to the usual development of the head and neck region, and activating key pathway constituents, like the genes MAPK1 and HRAS, is known to drive the growth of a variety of cancers, says Dr. Vivian Wai Yan Lui, molecular pharmacologist and translational scientist at the Georgia Cancer Center and MCG and the paper's corresponding author.
But the mutations in the genes in the MAPK pathway that enable tumor growth can also make it sensitive to drug therapy, says Lui. While a lot of discovery is still needed to find more mutations in the MAPK pathway and the drugs that target them, Lui says they are among the most logical treatment targets for this tough-to-treat cancer.
She is looking in her lab for drugs that kill head and neck primary tumors from patients, and at the genetics behind how they kill.
If these types of studies continue to find the methodology works, gene panels might need to be developed to expedite target discovery in this very heterogenous cancer.
More clinical trials around the globe at institutions like MCG and the Georgia Cancer Center are essential to identifying these specific mutations and drugs that target them in a precision manner, Lui notes.
Also, next on the horizon is combining this "precision medicine" approach with immunotherapy that better enables a patient's immune system to also target the cancer, she says.
Prior to the era of genomic medicine, when scientists began to identify and target a specific gene mutation, "non-precision" drug treatment of the MAPK pathway in head and neck cancers as well as other cancers were "futile," and typically "failed miserably" in clinical trials, Lui and her colleagues write.
While the reasons may be uncertain, they likely include the wrong drug for that specific, problematic mutation, Lui says, as well as the fact that some MAPK pathway mutations are known to convey drug resistance.
Today there are just a handful of drugs that target specific, cancer-causing mutations in head and neck cancer and there aren't effective precision drugs for about 80% of patients, Lui and her coauthors write. But there is mounting evidence that targeting specific MAPK pathway mutations in the pathway like MAPK1, HRAS, KRAS and BRAF can be very effective for these patients.