Cancer Patient's Treatment Paves Way for Other Children
Colin Hayward Toland has a tried-and-true method of making friends on a plane.
Once buckled into his seat, he'll take the paper and pencil provided by his mother, write "Hi, my name is Colin. What's yours?" and hand it to the passenger behind him.
The paper invariably gets passed back, often posing follow-up questions. A new penpal occasionally asks Colin, for instance, where he's headed. He writes back, "To see Dr. Johnson," charmingly inverting the J.
This pastime is so typical of Colin's sunny personality that his bemused mom has to remind herself how improbable it is.
'He Looked Scared'
Colin, now 8, was diagnosed at age 2 with ependymoma, a malignant brain cancer. "He started stumbling a lot," says his mother, Tamiko Toland, of the symptoms that led to his diagnosis. "Then he woke up on a Sunday morning – the day we'd scheduled a pool party for his second birthday – and his legs didn't work at all. I was holding him and his back arched. He was stiff. He just looked very scared."
A brain scan confirmed the crushing diagnosis. Toland, a writer from Ithaca, New York, absorbed the news with characteristic stoicism. She didn't have time for self-pity; it was time to formulate a game plan. And that's just what she and her husband, Ian Hayward, did.
Two surgeries followed, including one in 2009 that damaged the nerves on the right side of Colin's brain stem, leaving him unable to talk, walk or swallow. The family, which includes son Aidan, age 11, eventually ended up at St. Jude Children's Research Hospital in Memphis.
"After two surgeries, we still had residual tumor, so we needed a path to remove it," Toland says. "St. Jude offered that through chemo. We opted for an experimental protocol because, without complete removal of the tumor, there's little chance of a cure. Aggressive treatment was our only option." But despite the risks, the treatment gave Colin the hope of a future. After another surgery, chemotherapy and radiation, the cancer was in remission.
Colin squandered not a single minute in making up for lost time. With extensive physical, speech and occupational therapies combined with the incredible resilience of a toddler committed to reclaiming his life, he regained nearly all of the function he lost.
The ensuing five years were incredibly fulfilling, with the family rediscovering the rhythms of a normal, happy life. Colin thrived in school; brother Aidan excelled in soccer. Life was good.
But Colin relapsed last January.
Doing Some Good
At this point, his parents hoped for a second chance through radiation to the whole brain and spine. But they were looking to delay the treatment, with its significant long-term side effects. With no other standard treatment options on the table, they were willing to consider anything that turned the odds in his favor. Enter Dr. Theodore Johnson, the one whose name Colin spells with a backward J.
It was during his Medical College of Georgia MD/PhD education that Johnson, now an assistant professor of pediatrics at his alma mater, began studying an enzyme called indoleamine 2,3-dioxygenase (IDO) with Dr. Andrew Mellor, director of the Cancer Research Center. In the 1990s, Mellor and his colleague, Dr. David Munn, discovered the role of IDO in protecting a fetus from the mother's immune system during pregnancy.
The groundbreaking finding unleashed a flood of other potential implications made possible by the understanding of how to manipulate the immune system to fight disease. Just as the body uses IDO to signal the immune system to ignore the presence of a fetus rather than launch an attack, a tumor uses the same mechanism. Once Mellor and Munn realized this crucial role, they developed small-molecule drugs that inhibit IDO. Augusta University patented the findings, enabling researchers to partner with NewLink Genetics to expedite the drug development. "Our mission is to get these discoveries to patients in Georgia and beyond so they can do some good," Munn says.
One such drug, which targets brain tumors, was based on Johnson's work with mice combining the IDO-inhibiting drug, indoximod, with standard chemotherapy. Augusta University is now conducting clinical trials with drugs such as indoximod on patients who have largely run out of other options. "Brain tumors often can't be fully removed surgically," says Johnson, noting that the drug seeks not only to provoke an immune response to the tumor with few side effects, but to battle the resistance cancer can build up against chemotherapy agents. The clinical trial began accepting adult patients last spring, and in March, Colin became the first pediatric patient to receive indoximod therapy.
'A Future for Our Kids'
Funding for the study includes a grant from the Alex's Lemonade Stand Foundation, named in honor of Alexandra "Alex" Scott, who sold lemonade to raise money for cancer research before dying of cancer at age 8.
Johnson and his team at the Cancer Center also recently received the Cannonball Kids' cancer Foundation's inaugural grant. Cannonball Kids' cancer (with the "c" in cancer deliberately lower-cased to signal its defeatability) is an Orlando, Florida-based nonprofit foundation dedicated to eradicating pediatric cancer.
"This isn't just funding research, this is funding a future for our kids," says foundation Co-Founder Melissa Wiggins.
Johnson applauds the generosity of foundations such as Cannonball Kids' cancer and Alex's Lemonade Stand, noting that brain tumors kill more children annually – nearly 2,700 in the United States alone – than any other cancer. "Funding from organizations like these is critical to advancing innovative immunotherapy research in children," he says.
Says Dr. Samir Khleif, director of the Cancer Center, "Dr. Johnson's research is a reflection of the level of excellent discovery occurring at the Cancer Center, allowing us to help our patients with the latest innovations of new therapies for adults and pediatrics."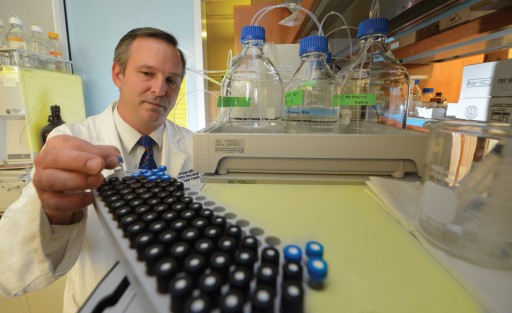 Making a Footprint
"Dr. Johnson's clinical trial was especially striking to us," says Cannonball Kids' cancer Foundation Co-Founder Michael Wiggins. "Dr. Johnson is going to make a footprint in pediatric immunotherapy, and we are going to help him help kids around the world."
As the first child in the study, Colin's footprint will be right beside his.
"I was a little dubious about the study at first," Toland concedes. "It's experimental, so I put it on the list of things we might do down the road. But after Dr. Johnson explained the therapy and the research that had gone into it, my husband and I didn't really even need to discuss it. We knew that was the next step."
Either she or her husband accompanies Colin monthly to Augusta for treatment, which consists of oral medication and a checkup.
"Colin loves coming," Toland says. "Dr. Johnson is completely engaged and very active in all aspects of his treatment, including the parts we receive closer to home. We stay in the Ronald McDonald House when we're in Augusta, which is wonderful, and Colin loves the plane rides. He's a very social child."
Mastering His Objective
With more recent revelations about the molecular biology of Colin's disease, his prognosis is guarded; he's already lived years longer than science would have predicted. But he recently started third grade, a milestone he couldn't wait to achieve, and his quality of life is excellent. He's also laying the groundwork for future pediatric cancer patients. The study is now available for other children, and Colin's inaugural participation has already added immeasurably to the researchers' body of knowledge.
Says Toland, "We're very thankful for this option, because even if it doesn't cure Colin, it may help extend his life and enhance his quality of life. Right now, that is our goal."
The family doesn't discuss mortality with Colin, because his only objective is enjoying his life – an objective he masters with exuberance and aplomb.
"I want him to feel able and accomplished, and that's what is happening," Toland says. "Even with everything he has going against him, he's this incredibly happy kid. I'd like to keep it that way as long as possible."
Two Visions
Toland, who blogs about her son's experience (colinlovestractors.com), writes that she carries two visions in her head of son Aidan's wedding day. In one, she clutches Colin and breaks down in tears, exhilarated that he is there to share the moment. In the other, she hugs Aidan and weeps "over the conspicuous absence in the room." As difficult as it is, she feels able to accept either outcome. If the latter turns out to be her reality, she and her family will have the comfort of knowing they did everything possible to save him and never took a minute for granted.
"We are extremely fortunate to have Colin with us," she says. "He has been the beneficiary of the absolutely best treatment and technology. Under normal circumstances, we wouldn't have had these six years together. We've always known this was borrowed time that could be cut short at any moment."
As she writes in her blog, "Colin's story is not over and our life as a cancer family will never end. These experiences have changed me as a mother and a human, and not for the worse. We have met incredible people and seen miraculous things. . . . We are grateful for those who work to turn the tide and give hope to children with cancer."
And as for her older son's eventual wedding day?
Well . . . "I embrace our joy and gratitude fully, yet always with one eye to that moment in the distant future where tears will mask the unspeakable words, 'I'm so glad you're here' or 'I wish your brother could have been here.'"
Pressing On
The work of Cancer Center pediatric oncologists recently received yet another significant boost.
Press On, a donor-advised fund of the nonprofit Community Foundation for the CSRA, has donated $2.5 million to fund translational pediatric cancer research and cutting-edge treatment alternatives at the Cancer Center.
"We are building the infrastructure in Augusta that can serve communities that don't necessarily have the ability to travel for treatment," said Stephen Chance, who co-founded Press On with his wife, Erin.
"When you hear there are no curative options for your child, it stops you in your tracks," said Tara Simkins, who runs Press On with her husband, Turner, and the Chances. "What options can we create for our children? That's been the driver behind Press On. "
The gift will fund development of the Press On Translational Pediatric Oncology Program at the Cancer Center to boost the discovery and deployment of new treatment alternatives for childhood cancers. This grant was made possible with the long-term commitment of  Tony and Jeannie Loop and the JANUS Research Group.
Press On was founded in 2006 when the Chances' son, Patrick, was diagnosed with neuroblastoma, a cancer that affects nerve cells. After a courageous battle, Patrick died in 2012. In 2009, Turner and Tara Simkins joined Press On after their son, Brennan, was diagnosed with acute myeloid leukemia, a blood cancer. Following years of care and an unprecedented four bone marrow transplants, Brennan is in remission.
For more information, visit cancer.gru.edu/presson.