Course Enables Dental, Medical Students to Learn from Each Other
They spend several of the most arduous years of their lives together, often within mere feet of each other.
Yet in many ways, medical students and dental students may as well inhabit different planets.
Those at Augusta University share the same campus and many of the same facilities. Overlap even exists in many portions of their curricula. Yet due largely to the extensive demands of their coursework, their paths seldom cross. Dr. Scott De Rossi, chairman of The Dental College of Georgia Department of Oral Health and Diagnostic Sciences, wants to help change that.
Students Teaching Students
He took a significant step in that direction recently when he oversaw dental students' participation in a weeklong  interprofessional course. The dental students' role was to teach their Medical College of Georgia counterparts how to examine the oral cavity and screen for oral cancer.
"The oral cavity is not included in most medical school curricula," De Rossi said, "yet there is growing evidence linking oral health to various systemic diseases, including stroke and heart disease. There are also oral manifestations of many medical illnesses, making it imperative to know how to do a thorough exam of the oral cavity."
Physicians – particularly general health practitioners and emergency medicine physicians – can also serve as a first line of defense in screening for oral cancer, De Rossi noted.
In addressing this need, De Rossi and his colleagues provided the MCG participants with a module including a video, clinical checklist and handout related to oral exams. "They had that information going into the experience," De Rossi said.  Then, small groups of the MCG students were paired with a dental student who provided hands-on instruction, supervised by a preceptor.
"Each dental student demonstrated an exam of the oral cavity on a medical student, then each medical student performed the exam on the dental student," De Rossi said. "The dental student was able to assess the skills and provide immediate feedback."
The MCG students will return the favor later this year when teaching the dental students how to perform a cardiovascular exam.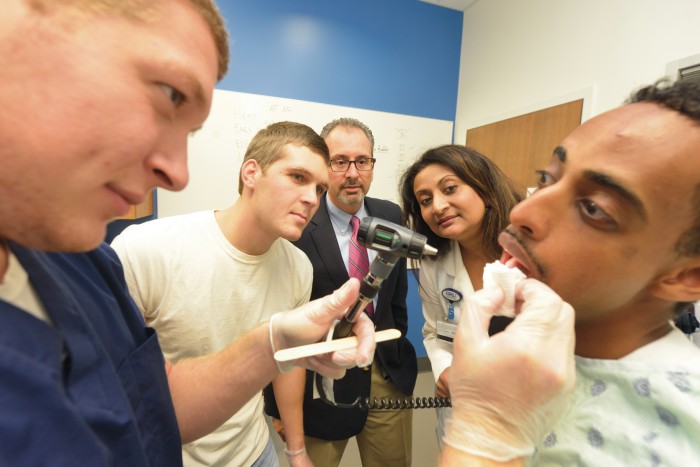 Toppling Silos
De Rossi noted that the program addressed not only vital curricular needs, but the ongoing need to increase interaction among different disciplines. "Both medical and dental accrediting bodies are now mandating this as a requirement, so each school has to integrate it," he said. "We need to do everything we can to break down silos."
Resoundingly positive feedback is convincing him that he and his colleagues are on the right track. "We asked the participants to complete surveys both before and after the program," he said. "We saw significant changes in the students' attitudes toward working together in a learning environment and improving mutual respect between the two professions. And most importantly, they actually learned a lot. The medical students' knowledge about the oral exam was greatly increased. They went from feeling uncomfortable to extremely comfortable in performing an oral exam."
Said Dr. Robert R. Nesbit Jr., an emeritus professor of surgery who teaches physical diagnosis, "I told the students after the course that we now know more about head and neck exams than many physicians in practice."
He added that the dental student instructing his group "was an excellent teacher – very knowledgeable and patient. Clearly, the more interdisciplinary contact we have, the better. It provides an understanding and feel for what others know and a respect for their skills."
Spreading the Word
The program was such a success that De Rossi and his colleagues – including Dr. Kate Ciarrocca, DCG assistant professor of oral health and diagnostic sciences, and Dr. Shilpa Brown, MCG assistant professor of internal medicine – have been invited to present an abstract of the experience at the American Dental Education Association annual session next March in Denver.
"Programs like this foster the kind of interprofessional interaction we're looking for," De Rossi said. "The students get to work together, learn about what the other group is learning and why."
Ciarrocca concurs. "Expanding interprofessional education in the curricula of all health professionals can improve key skills and prepare students for their careers by driving up standards of professionalism and best practice," she said.
De Rossi adds that health professionals are increasingly integrating the medical and dental professions in the real world as well. Dentists' vast expertise in treating all aspects of the oral cavity, he said, has long since rendered their original role obsolete. "The word dentist, literally translated, means 'toothist,'" De Rossi said. "I have no interest in educating toothists. My goal is to educate oral health professionals. It really makes sense for us all to work together."