Fellow Alumni,
It has been a tremendous honor to promote the great legacy of the Medical College of Georgia by serving as president of the Alumni Association this past year. This undertaking has taken on a more special meaning as we celebrate the association's 125th anniversary.
The MCG Alumni Association was founded Aug. 31, 1891, by 15 graduates and now represents over 11,000 living and located alumni of the state's public medical school. While a lot has changed over the last 125 years, the mission of the association has remained the same. We strive to preserve the legacy and memories of the medical college and to partner with you to strengthen and grow MCG.
We do this through our commitment to the next generation of alumni – our students – by sponsoring their first official activity on campus, the Freshman Brunch, and one of their last official activities, the Hooding Ceremony. We also sponsor welcome dinners for third-year students and alumni at our regional campuses based in Albany, Rome and Savannah/Brunswick; a luncheon for students at our partnership campus in Athens; the always entertaining Raft Debate; and the HOST Program, which pairs students with alumni to offset the cost of travel during residency interviews.
We also strive to help alumni reconnect with MCG and their classmates by hosting receptions across the state and beyond and sponsoring homecoming activities each spring.
If you have not joined, now is the perfect time to partner with us in promoting the beautiful tradition of MCG. Join me in giving back to the medical school that has given us all so much.
I hope you will join us in Augusta on Sept. 17 for a celebration of the association's historic anniversary and of our medical school's future.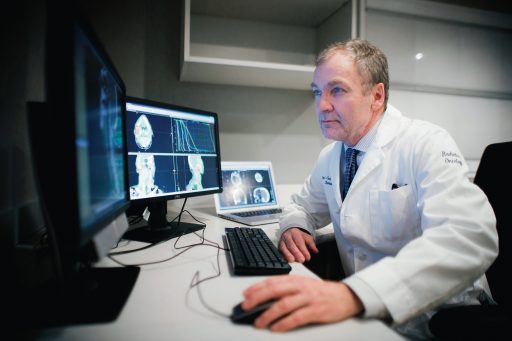 Happy Coincidences
As a Georgia resident, then a student at the Medical College of Georgia beginning in the late 1970s, Dr. Walter Curran Jr. ('82) recalls the excitement of living in the Peach State when then-Governor Jimmy Carter was elected president — Carter's mother, nurse Lillian Gordy Carter, even spoke to his class at one point.
Fast forward some 40 years, and Curran, now executive director of Winship Cancer Institute of Emory University in Atlanta, would have another Carter moment, serving on the medical team caring for the former president when his melanoma metastasized to his liver and his brain. (At last report, Carter is responding well to immunotherapy treatment, with no further lesions on his brain.)
The Carter connection is one of many coincidences in Curran's rich career. Curran grew up in Massachusetts and always knew he wanted to be a physician. But first, a detour. He told his college advisor that he wanted to teach initially, and his second teaching position brought him to the LaGrange, Georgia, public school system. Applying to the state medical school was an easy decision from there.
Speaking of his time at MCG, Curran recalls the outstanding commitment of its faculty to its students and how well-prepared he was in both clinical care and science — more prepared than many of his fellow trainees — when he entered his later training. He has also often remarked that every step he took seemed to lead him to oncology — ultimately radiation oncology, which allows him to care for a diverse group of cancer patients and participate in research to improve care.
He got his first taste of the specialty at MCG, then completed a residency in radiation oncology at the University of Pennsylvania Medical Center (Penn), followed by a faculty appointment at Penn and at the Fox Chase Cancer Center. His career flourished from there, including becoming chairman of radiation oncology at Thomas Jefferson University in Philadelphia and clinical director of Jefferson's Sidney Kimmel Cancer Center.
Then came the call back to Georgia. Curran joined Emory in January 2008 as the Lawrence W. Davis Chair of Radiation Oncology and chief medical officer of the Winship Cancer Institute before being named to the executive director role the following year. Today, his days are a "pretty dynamic mix," he says. Curran continues to see patients twice a week and lead ongoing research projects, along with teaching medical and radiation oncology trainees and completing administrative work.
A Georgia Research Alliance Eminent Scholar and Chair in Cancer Research, a principal investigator on several National Cancer Institute grants and an international expert in the management of patients with locally advanced lung cancer and malignant brain tumors, Curran is currently working on a multicenter study to understand how some protein-protein interactions in glioblastoma could be a target for new types of therapies. Meanwhile, under his leadership, the Winship Cancer Institute has become increasingly recognized nationally and worldwide for its cancer research, defining new treatment paradigms for many different types of cancer as well as focusing on population studies centered on smoking cessation and other lifestyle issues.
Another happy coincidence? Curran continues to collaborate today with classmates he met while at MCG, such as radiation oncologist Dr. Henry Cline ('82), as well as physicians currently at the Georgia Cancer Center at Augusta University.
"One of the great things about cancer care and cancer research is there really are no institutional boundaries," Curran says. "We do our research across the entire nation, across the entire world, and the people that you meet and do work with, you probably will continue to do work with over a career spanning decades.
"It's great to be back in Georgia, and it's also great to see the progress that's been made at MCG — and the partnerships that exist in many areas between Emory and MCG."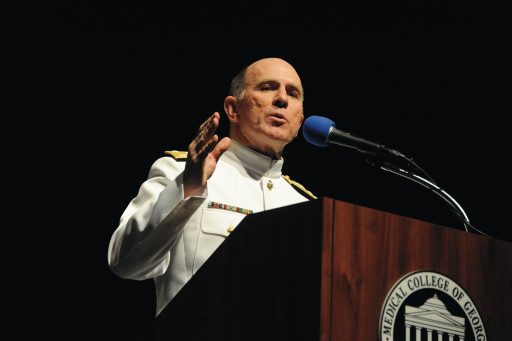 "An Honor and a Privilege"
Vice Adm. Matthew L. Nathan ('81), Navy surgeon general and chief, retired Dec. 7, calling his career in the Navy an "honor and privilege."
The Surgeon General of the United States Navy is the senior-most medical corps officer in that branch of the armed services.
Nathan, a native of Napa, Calif., came to MCG in 1977 after graduating from the Georgia Institute of Technology. He was commissioned in the Naval Medical Corps in 1984 and completed internal medicine training at the University of South Florida before heading to Guantanamo Bay to head the internal medicine department at the Naval Hospital there. In 2004, he became commander of the Naval Hospital in Pensacola, during which time he oversaw the Navy's relief efforts following hurricanes Ivan, Dennis and Katrina.
Nathan became the 37th Navy surgeon general and chief of the Navy's Bureau of Medicine and Surgery in November 2011. He previously served as the Navy's component commander to the largest military medical integration and construction project in history: combining Walter Reed Army Medical Center in Washington, D.C., with the National Naval Medical Center in Bethesda, Maryland, to form the Walter Reed National Military Medical Center. He served as commander of the consolidated facility as well as Navy Medicine for the National Capital Area before being named surgeon general.
The 2012 MCG Hooding speaker told students that the training he received in Augusta has made him as well, if not better prepared than most, to take care of patients.
"I think this school should pride itself on that," he said.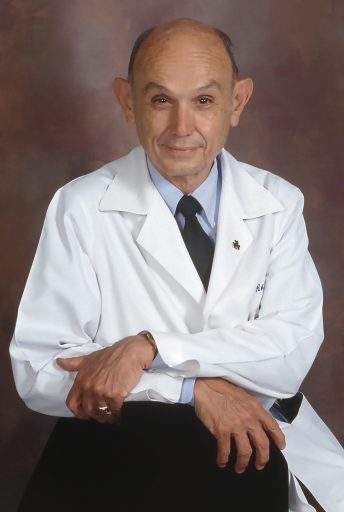 For Distinguished Service
The American Medical Association has presented the 2015 Distinguished Service Award to Dr. Joseph P. Bailey Jr. ('55), Leon Henri Charbonnier professor emeritus and MCG's associate dean for clinical sciences emeritus. Established in 1938, the Distinguished Service Award recognizes meritorious service in the science and art of medicine. Bailey accepted the award during the opening session of the 2015 AMA Interim Meeting in Atlanta.
"Dr. Bailey has served his patients and fellow physicians with honor and distinction for more than a half-century," said AMA President Steven J. Stack, MD. "He has demonstrated an unwavering commitment to improving patient care as a leader in organized medicine."
Throughout his career, Bailey has served as a passionate patient and physician advocate. A past president of the Medical Association of Georgia, he has been a dedicated and integral member of Georgia's AMA Delegation for nearly 20 years, including his role as chair from 1999 to 2014.
During his more than 50-year career as an educator, he has impacted the lives of countless medical students and residents. Bailey served as MCG's chief of rheumatology from 1967 to 2000.
He has received numerous awards in recognition of his work, including the 2014 MAG Legacy Award, the designation of Master by the American College of Rheumatology in 2008 and the 1990 MAG Distinguished Service Award, which was later renamed as the Joseph P. Bailey, Jr. Distinguished Service Award.