It's that unexpected announcement that practically anyone would welcome: "Congratulations! You are a winner in the Publishers Clearing House Sweepstakes!"
No more bills. No more mortgage payments. No more worries.
Unfortunately, that's exactly what con artists from across the globe are hoping you'll believe, according to Special Agent Steven Foster of the Georgia Bureau of Investigation's Cyber Crime Center in Augusta.
But instead of becoming a millionaire, you're about to be a victim of a cybercrime, he said.
"We got a call the other day from a woman whose sister had been contacted by people claiming to be Publishers Clearing House, and they wanted her to meet them at the bank so she could pay them an up-front fee to get a government approval stamp," Foster said. "If she gave them the up-front fee, they said they would give her $600,000."
There is one common rule the public should know when approached with such a request: Never spend money to collect a prize, sweepstakes check or lottery winnings.
If you are asked to pay someone to win, it's a scam, Foster warned.
"If the Prize Patrol didn't show up at your house with a big check and balloons, that should be the first clue," Foster said. "And people should know, 92 percent of all cybercrime starts with an email."
Just because an email or cell phone number looks familiar, that doesn't mean you can let your guard down, Foster said.
"Emails and cell phones are king right now in cybercrime cases because we've been taught over the past 20 years to trust your email and trust your caller ID," Foster said. "People think, 'If my phone says the Internal Revenue Service is calling me, it must really be the IRS.' Well, we know that's not true. But the con artists are convincing. That's why we're here."
The GBI's Cyber Crime Center, housed on the fourth floor of the $100 million Georgia Cyber Center located at the Nathan Deal Campus for Innovation in downtown Augusta, opened in July 2018 to concentrate on criminal investigations involving cybercrime and cybersecurity violations.
"Cybercrime is basically any crime that uses information technology to carry it out, so it can be a computer, cell phone or anything like that," Foster said. "We also understand that the landscape is going to be constantly changing.
"New technology, new apps, new software is always being developed, and bad guys are constantly watching it to see how they can take advantage of it."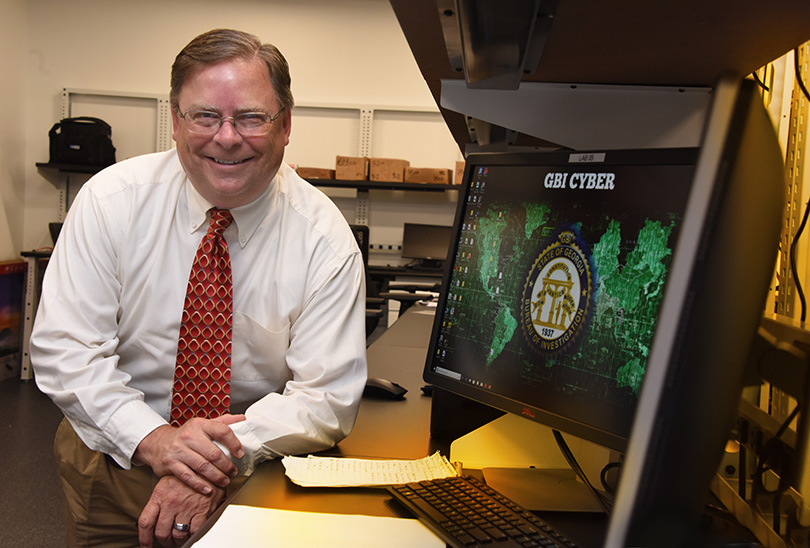 The rise in cybercrimes
In order to help protect the public, the GBI's Cyber Crime Center provides investigative and digital forensic expertise to assist local, state and federal law enforcement agencies in combating crimes committed via digital technology and the internet.
While their investigations might not regularly make front-page news, Foster explained most people don't realize how widespread cybercrime is throughout Georgia.
"Cybercrime may not garner a lot of attention because a lot of these cases are property crimes, which means they are white-collar crimes," Foster said. "Therefore, people don't get very excited about it because smoke doesn't rise from cybercrime and there aren't helicopters circling the building, picking up action shots over here. But cybercrime has a tremendous impact."
The number of cybercrime cases in Georgia has dramatically increased each year for the past decade, Foster said.
"Georgia is losing about $300 million a year through cybercrime," Foster said, adding that those losses are a result of crime committed against both private individuals and commercial businesses. "In 2008, realistically, we would have had about $42 million in losses through cybercrime. Now, about 10 years later, we are at around $300 million in losses. That's an enormous increase over 10 years."
Specifically, there has also been a drastic increase in criminal groups engaging in sophisticated business email compromise scams, Foster said.
The cybercrime criminals use spoofing email accounts and websites that have slight variations on legitimate addresses to fool victims into thinking the fake accounts are authentic, Foster said.
"These criminals learned the tools to work in that one area and they do very, very well there, but unfortunately, they are also constantly changing," Foster said. "So when we get the word out about the dangers of spoof phone calls and emails, we may curb those numbers in that area, and then the criminals will quickly shift into something else."
They also use bogus emails believed to be from a trusted sender to prompt victims to reveal confidential information. In addition, some criminal groups are using malware to infiltrate company networks and gain access to legitimate email threads about billing and invoices, Foster said.
In fact, the GBI's Cyber Crime Center was involved in the investigation into the recent ransomware attack on the state organization that manages Stone Mountain Park in the Atlanta area. In April, Stone Mountain Memorial Association's computers were targeted by cyberattackers demanding money.
The Georgia Department of Transportation also recently suffered a business email compromise that agents from the GBI's Cyber Crime Center investigated, Foster said.
"There are a lot of challenges out there for us," Foster said. "For example, from 2016 to 2017, business email compromise cases drastically increased in profits. They increased 400 percent in one year."
Even before the GBI opened the Cyber Crime Center in Augusta, the agency knew it needed a more concentrated effort on cybercrime, Foster said.
"Cybercrime is just something that you can no longer handle as a side job," Foster said. "It's a full-time job, so that's why we now have a dedicated mission here at the Cyber Center. And we are set to grow.
"We started with just eight employees here, and the state legislature just approved us to double that number," he added. "So, at least by the end of the year, we'll be at 16, and we'll see where we need to grow from there."
Foster also warned the public that anyone can be a victim of cybercrime, so people must be wary of the scams that are out there.
"Just last week, my wife got three emails from Apple and it took just a minute to figure out what these con artists were trying to do," Foster said. "I tell her, 'Don't click on attachments, and don't download these things you know nothing about. Also, know that spoof numbers are easily faked.' But because a victim is on a personal computer or a cell phone, they believe their information is safe. It's not."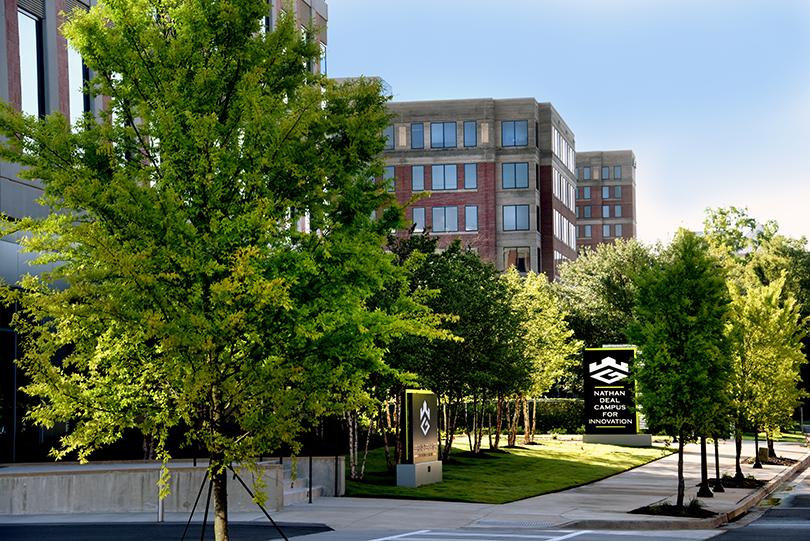 Working together as one
The GBI Cyber Crime Center also plays a significant role in the training and education of law enforcement in the handling of digital media as evidence in criminal investigations.
"It was wonderful because we were actually given the biggest classroom in the building," Foster said. "We have a 60-seat classroom, and we recently had Cellebrite, a company that manufactures data extraction and analysis devices for cell phones, training here. Then, we also had the National White Collar Crime Center here a few weeks ago for social media, the dark web and virtual currency training for law enforcement."
That training attracted more than 30 law enforcement officers from as far away as Texas and Washington, D.C., Foster said.
"We also do a lot of work with the FBI," Foster said. "We are going to be a part of the FBI's cyber task force, hopefully soon. And, as we add more agents, we'll be able to increase our capability."
FBI Special Agent Brian Ozden's office is located in the Augusta Riverfront Center on 10th Street, just a few steps away from the Georgia Cyber Center, and he sees a huge benefit having the two agencies in such close proximity.
"Steve (Foster) and I have been friends since we both started years ago," Ozden said. "He was GBI, and I was FBI, and we worked cases together, so when he got this job over at the Cyber Center and I got the job over here, it was very beneficial to both of us because there wasn't any awkwardness of getting to know each other.
"It was immediately, 'How can I help you? How can you help me?' from the very beginning."
Ozden is also impressed with the Cyber Center's public-private partnership involving academia, state and federal government, law enforcement, the U.S. Army, and the private sector.
"I've been over there a number of times, and I think the idea of the mission of the government and the public-private sector promoting one another will benefit the entire Georgia community," Ozden said. "The Georgia Cyber Center is certainly helping out with our mission by offering their auditorium. We recently brought in this speaker who was the crisis management coordinator for the Pulse nightclub shooting in Orlando. We had 125 command-level law enforcement and industrial security folks in that auditorium."
Bringing such a large group of law enforcement officials together to discuss topics such as crisis management or terrorism will only better prepare officers and agents in the future, Ozden said.
"When we get together in a setting like that, we get to know each other, we get to work together, and we get to train together," Ozden said. "That's extremely important because, God forbid, if we ever have an incident, we want to be able to effectively manage it, and the only way you're going to be able to do it is if you know the people you are working with.
"You don't want to see them for the first time in the middle of an incident."
Both the GBI and the FBI, as well as the local law enforcement, realize that they are all one team when it comes to combating cybercrime, Foster said.
"Nobody can do this alone," Foster said. "Your city, your county, your state and your federal agencies have to have that relationship with each other to be able to fight cybercrime because you don't have the criminals where the crime takes place anymore."
The criminals can be anywhere around the world, Foster said.
"The international reach of these kinds of crimes is vast," he said. "We are often dealing with a perpetrator who has never set foot in Augusta or even Georgia, so we need those law enforcement connections. We can't do it alone."