At Tatooine, their outpost in the Georgia Cyber Center, Defense Digital Service (DDS), a team of talented military and civilian tech experts, takes on the bureaucratic Empire with their Wi-Fi, laptops and hoodies, and the nerd culture you see played out across the DDS space is part of the group's DNA.
An agency team of the U.S. Digital Service, DDS was established in late 2015 as a way of transforming technology within the Department of Defense (DOD) by applying industry best practices to high-impact national security missions and some of the DOD's most complex IT challenges, though it's probably easier to think of it as a SWAT team of nerds. DDS is based out of the Pentagon. Tatooine represents the group's first satellite office, and its location, just like its name, is no accident.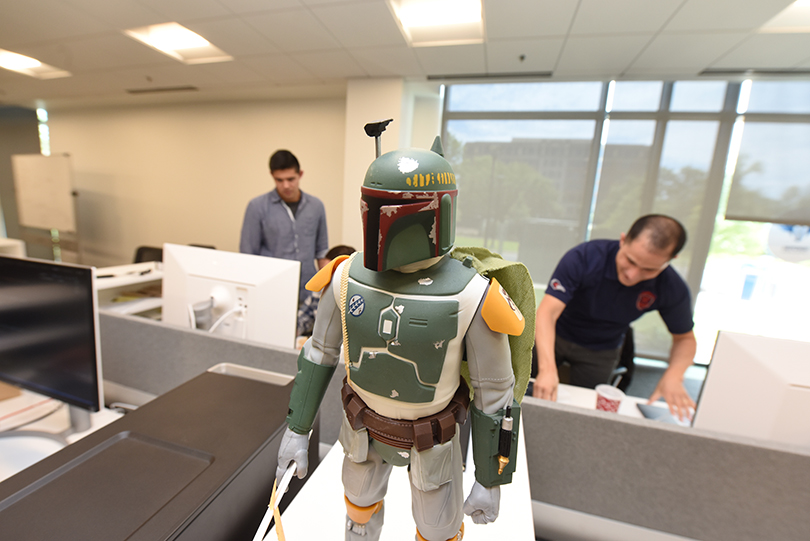 A New Space in Augusta
Two of the U.S. Digital Service core values are to go where the work is and to design with users, not for them. To be successful, they desire to be close to the problems and people who are trying to solve them. The decision to base Tatooine in Augusta follows that sentiment. Being housed at the Georgia Cyber Center allows the DDS team to benefit from the collaboration and modernization in cybersecurity technology among government, industry and educational institutions.
"We chose Augusta because Army Cyber is headquartering in Augusta at Fort Gordon, but also because we have a lot of relationships with folks at Fort Meade and other areas where we know there will be work coming down to Augusta," says Clair Koroma, a civilian who works as a DDS "bureaucracy hacker."
Their mode of operation, which Koroma says they're anxious to imprint in Augusta, is to get together small and nimble teams of very smart people in a variety of areas so that whole teams of folks can attack a problem identified by a stakeholder.
Those teams are made up of bureaucracy hackers like her who are familiar with policy and procurement, project managers, designers and software and hardware engineers. The Tatooine workplace provides an environment with the tools, technology and DDS mentorship that enables top technical talent from within the ranks to hone their skills and contribute to mission.
The important thing to know, Koroma says, is that DDS only works on problems that have a magnitude-of-order impact on the Department of Defense in issues where technology is failing the needs of users. And they want to be sure they can solve the problems quicker than they would normally be solved.
"We don't typically engage in projects that are long-term, so that by its very nature creates a team where there's a lot of churn," she says. "We really hit problems hard because our goal is always to have maximum efficiency and to get problems solved as quickly as we can."
Scaling Private Sector Best Practices
DDS approaches technology by bringing in private-sector tech talent and best practices. Technology problems include everything from developing drone detection technologies and hunting for adversaries on DOD networks to rethinking training for cyber soldiers, streamlining the processing of veteran health care requests and improving the efficiency of the moving process for military families.
And the results of DDS's work over the past four years have been significant. After DDS involvement, the time to transfer veterans' health care records was reduced from three months to one day, and system updates went from every 18 months to every two weeks. In another case, the DDS team is helping to ease stress for the roughly 450,000 military families that move each year using the Defense Personal Property System. DDS worked to help optimize and improve the system to help make those moves go smoother, reducing system latency rates, supporting more users and increasing successful household moves.
And the low-cost software system developed by a DDS team at Tatooine to combat the commercial drones used by adversaries in the field proved flexible enough to adapt to new situations and easy enough for operators to use in even the most remote locations, resulting in safer conditions for our troops.
Get in, do the job, and get out.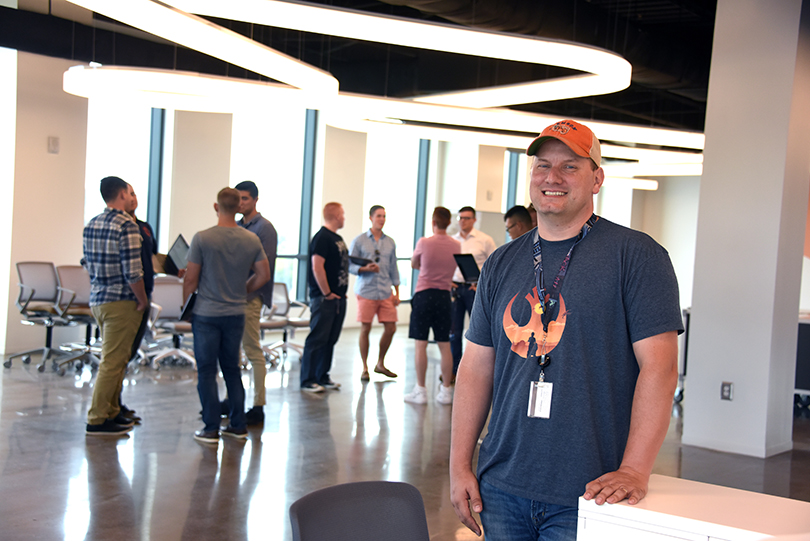 Army Cyber Collaboration
"DDS has always thought of itself as the Rebel Alliance," says Clay Moody.
Moody is a Lieutenant Colonel assigned to the Army Cyber Institute at the U.S. Military Academy at West Point with duty "down at the Tatooine space" in Augusta, and he'll tell you he has two titles in the Garden City: Director of Tatooine and "talent bounty hunter." And though it goes without saying, he'll say it anyway — Boba Fett is his favorite Star Wars character.
"We adopted that name for our outpost because it is a beacon of talent—a counterculture to what many think of technology at the Defense," he says. "Our mission is to figure out how to work better inside of the world's largest bureaucracy while fixing the problems of hardware and software — quickly — to support the mission. Everyone sees themselves as a nerd, and we're trying to empower the nerds inside of an organization that maybe doesn't value or handle technical talent correctly."
Building a Counterculture
To hear Koroma tell it, DDS's organizational structure isn't just different from the military; it's different from the overall federal government as well, and in that difference lies its strength. It is part of the U.S. Digital Service that focuses on bringing in the best in tech and best in talent to solve big problems in government.
"I'd say the way our team started is testament to the recognition from the very top level of the Department of Defense all the way down to the services we partner with on a regular basis that there is a need to have a different mentality when it comes to this domain," Koroma says, referring to the cyber/tech world that has become so vital to the military and national security.
"Different mentalities" isn't something that comes easily in such highly structured environments, though in this case, leaders recognized the need and bought into the concept from the beginning.
When former DDS Director Chris Lynch pitched the idea to then-Secretary of Defense Ash Carter (using the term SWAT team of nerds, of course), he knew it was an ambitious plan that probably wouldn't be well received. But not only was Carter receptive, he agreed to fund it.
"We were one of the first teams under the U.S. Digital Service Act to get our own charter and our own funding line from the department that housed us, and subsequent secretaries since then have also been very supportive of this team and have continued to believe in the work and the mission because they've gotten results," Koroma says.
Now, DDS is under the direction of Brett Goldstein, whose tech-focused resume includes helping to develop the online reservation system Open Table to earning the rank of commander with the Chicago Police Department, later serving as the city's Chief Information Officer.
"We are excited for Brett to be taking on the role of director to build and expand the team and its work," said former acting secretary of Defense Patrick Shanahan at the time of his appointment.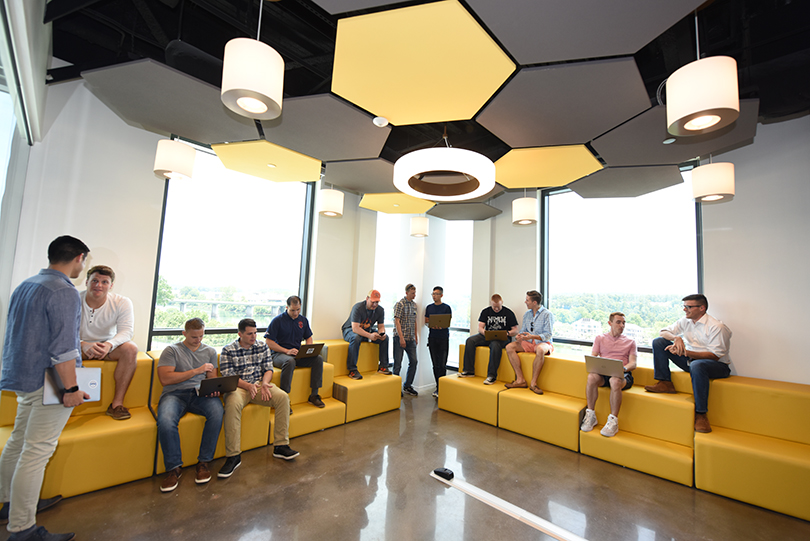 "His public and private sector knowledge, technical expertise and commitment to improving government through technology will be invaluable to a range of critical missions across the department."
Jason Hussey, an active duty Army officer with the self-awarded duty title of Director of Operations at Tatooine, agrees that the counterculture nature of the outpost — the proverbial square peg trying to fit into the round hole of established, venerated governmental structure — goes against the grain, but he says they've encountered what he calls a coalition of the willing that has helped the different people from different organizations coalesce around the Tatooine space.
"We're all just from different organizations that have been given to this effort by some very senior leaders who put their chips down and said, 'We're going to bet on this sort of asymmetrical effort,'" Hussey says.
Tatooine, which started out in temporary offices at the Georgia Cyber Center in October 2018, moved into its permanent space, designed to accommodate about 80 personnel, in July 2019. This finished, custom-designed space allows these teams to work together while developing a sustainable ecosystem.
It's in the notion of the ecosystem that the importance of Tatooine, the outpost, becomes really clear, because being an outpost — in Augusta, at the Georgia Cyber Center — allows them to attract and retain the kind of talent that can make a difference. Why? Because that talent has unique needs — needs that are instantly recognizable to those in the industry but easily overlooked by those on the outside. And those needs can only be met at Tatooine.
Being a computer science professor at West Point for the last four years has allowed Moody to have a keen understanding of the talent ending up in Augusta because of Fort Gordon, making his job as talent bounty hunter easier.
"Being down here makes it easy to just move people across town," he says. "And we have an agreement with the Army Cyber School to tap in and grab some young Army officers. We're heavily Army right now, but our goal is to be very joint, meaning all the [military] services will be represented."
No matter what the service, spending time with DDS means spending time in the type of environment not common among the government.
"I joke around, but it's partially true, that the three combat multipliers of being in our program are unfettered internet access, a MacBook and a Star Wars T-shirt," Moody says.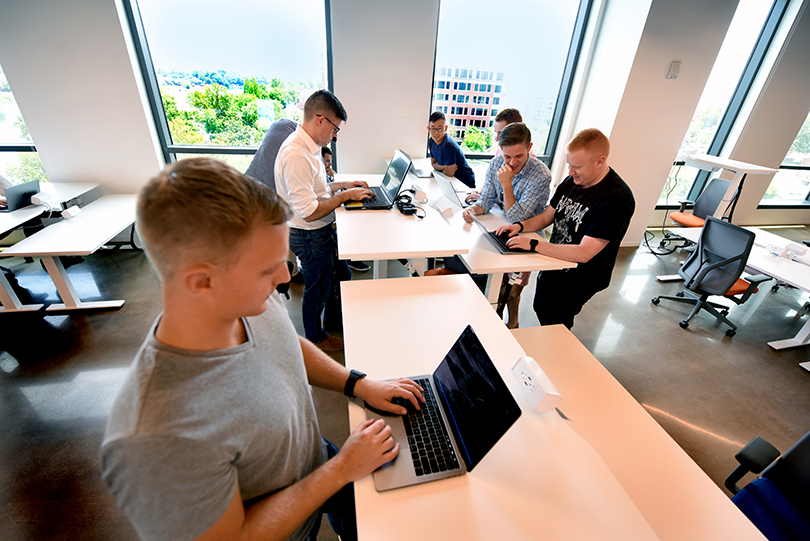 At face value, those first two — internet access and a laptop — might seem like no brainers, but for cyber folks used to working in the contained, secured environments of the military and DOD, they are anything but.
Being able to hop on the "dirty web," which to the rest of the world is simply the internet, is pretty much impossible anywhere on Fort Gordon, and having a MacBook, the kind of tool software developers rely on, is pretty much a no go in a world that doesn't allow private administrator rights and requires layers of paperwork just to install software.
But in a very real way, it's the third thing — the nerd culture represented by the Star Wars T-shirt — that might be the most pioneering element of the whole operation, because while the other aspects are practical, the T-shirt, oddly enough, is structural. It's here where the whole DNA thing comes into play.
"Essentially, it means we take off the uniform,' Moody says. "When you're on a team, you may be a sergeant sitting next to a major who is doing the same level of work as you, so coming out of uniform just allows everyone's opinions to be treated for what they are and not weighted because of the rank you're wearing on your chest or shoulders."
It sends the message that everyone's contribution matters, Koroma says.
"People who come into our team from the civilian side come with various levels of expertise and skill sets, and one thing we value highly is mutual respect for that," she says. "It's important for us to remove all of those organizational structures when they come so people actually have the opportunity to have a voice based on where they fit in the org chart."
Civilians working alongside soldiers, all of them equals according to task? That's the power of the counterculture, and removing those barriers surrounding rank, Koroma says, has unlocked a new level of success.
"I think it has been an incredible testament to our ability to sort of change the culture of DOD, because we've proven it works," she says. "When you take soldiers out of uniform and give them the opportunity to lend their expertise to a project, we actually get good results. We have soldiers of all tiers, whether they are captains or they're majors or they're first lieutenants. They're all able to contribute because they have the expertise, and they've been vetted through our internal process."
Whether civilians or the uniform services side, once they have passed through the vetting process and have been found to have the skill sets needed to work on the team, they come in as equals and are treated as such.
And when it comes to attracting those civilians to the team, DDS is appealing to an interesting mix of patriotism and giving back.
The team is looking to fill roles in Augusta at the new office.
"We're looking to hire people here in Augusta who would come for two years, potentially with an ability to renew for another two," Moody says. "Someone who maybe has gone out into the commercial space and been successful or enjoyed that, but really wants to give back and serve their nation and wants to come in and work on projects that matter — things that make the government run better, protect soldiers, protect our networks and defend democracy."
It all makes for an unconventional force that, Koroma says, has become a valuable tool in the nation's arsenal.
"It's not that we haven't had our fights," Koroma says. "We've had those for sure, and we will have many more. But there are also, I think, quite a few people in this domain who are very aware that in order for us to be effective — in order for us to get the kind of results we need to get, and quickly, because the demand changes so quickly — that they do need to move differently and they need to attack projects differently. And we do that."