The  lure of outthinking hackers is what drew teenagers Jeneyia Bido and James Russell onto the cyber battlefield, and thanks to expanding cyber education opportunities in the area, these code war soldiers are among Augusta's growing population of future cyber professionals.
Bido and Russell are both juniors on the cybersecurity career pathway at Richmond County Technical Career Magnet School (RCTCM), and they attribute their passion for cybersecurity to their families and the cyber education opportunities being offered at their school and in the city.
"I knew since the eighth grade that I wanted to work in cybersecurity, especially after learning about my uncle's cybersecurity duties in the military," said Bido. "Now that we have more cyber education opportunities in school, I'm excited to see what the future holds for Augusta."
Russell shared similar sentiments.
"My father's work in cybersecurity has set my eyes on launching a business to help multi-million-dollar companies counteract cyber assaults," said Russell. "I am grateful to have opportunities in high school to begin learning about the tactics of hackers, and I'm excited to see how Augusta is becoming a hub for cyber startups and research."
School officials around the region are working closely with area business, education and government stakeholders to offer computer science and science, technology, engineering, art and mathematics (STEAM) education endorsements to teachers and to revamp instruction and hands-on cyber opportunities for K-12 students.
In 2017, 81 teams of Augusta-area high school students participated in the Cyber Patriot program, an annual national cyber defense competition. Cybersecurity experts at Fort Gordon "Adopt a High School" to provide coaching and assistance to these local students.
"The world of cyber is ever-changing, and our city's cyber efforts provide us with new opportunities to expand our educational horizons on how we teach and prepare our students for working in the digital era," said Dr. Angela Pringle, superintendent of the Richmond County School System.
"Cybersecurity is a part of our daily lives, which is why I'm grateful for initiatives we're putting in place to ensure our students have the skills for these positions before they graduate from high school," added Dr. Sandra Carraway, superintendent of the Columbia County School District.
Both school districts are now offering experiential learning, including a coding class, robotics, and programs focused on science, technology, engineering and mathematics (STEM).
Augusta University, recognized by the National Security Agency (NSA)and the Department of Homeland Security as a Center of Academic Excellence in Cyber Defense, has expanded its cyber curriculum, created a master's degree in information security management, and launched the School of Computer and Cyber Sciences (CCS), in which more than 400 students enrolled during its first year.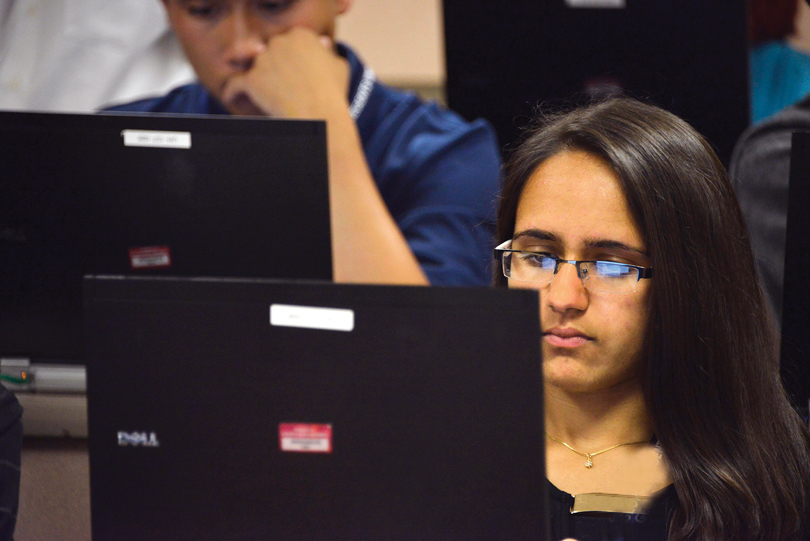 The university's Cyber Institute sponsors K-12 outreach programs to stimulate younger students' interest in cyber and to bridge the technology gender gap, including NSA-sponsored GenCyber Camps and the Girls Who Code club.
In addition, the Cyber Institute provides more than 300 cybersecurity pathway high school students remote access to its cyber range, which provides the development of critical hands-on cybersecurity skills necessary for success in cyber professions. This initiative has been so successful that AU recently released a call for proposal to all public school districts in the Central Savannah River Area offering the same opportunity for remote access to its cyber range to their high school students for the 2018-19 school year.
Joanne Sexton, CCS founding dean and director of Augusta University's Cyber Institute, says this explosive growth of cyber education opportunities will help create the next generation of cyber professionals — right here in Augusta.
"Our nation needs well-trained cybersecurity professionals in both the private and public sectors, and this facility is allowing Augusta to help meet this growing demand for developing qualified talent," said Sexton.