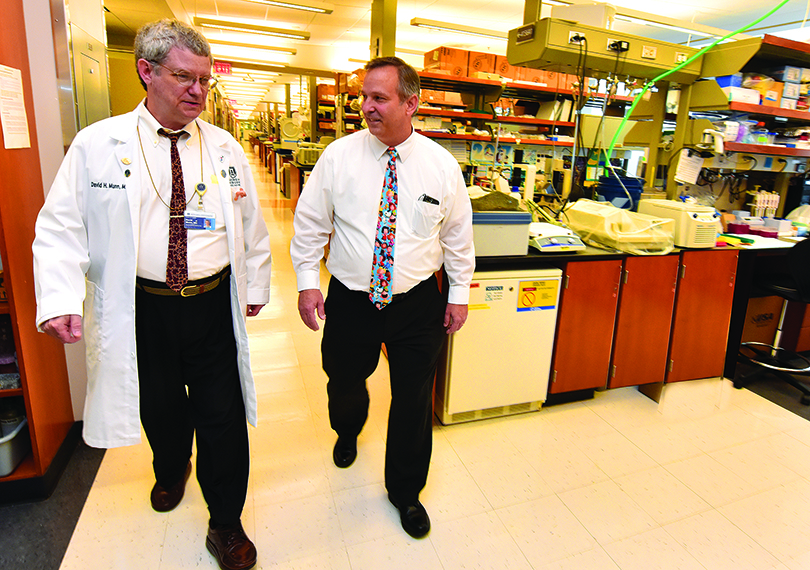 Drs. Theodore Johnson, '04, (right) and David Munn, '84, both pediatric oncologists at MCG and the Georgia Cancer Center, are leading the first study to examine in children with brain tumors the efficacy of a drug that inhibits an enzyme tumors use to protect themselves from the immune system. The study in children with recurrent brain tumors or newly diagnosed, particularly aggressive tumors called diffuse intrinsic pontine gliomas, is sponsored by a $3 million grant from the National Cancer Institute. They have early evidence in the lab and in an earlier phase clinical trial focused on drug safety that adding an inhibitor of the enzyme indoleamine 2,3 dioxygenase, or IDO, to children's treatment will enable lower doses of chemotherapy and radiation, better quality of life during treatment and still achieve improved survival for the children. Munn was part of the team that reported in 1998 in the journal Science that the placenta expresses IDO to help protect the fetus, which has DNA from both parents, from the mother's immune response. They would later find that tumors recruit IDO as well, likely from the immune system itself, which produces the enzyme as part of a check and balance.
Dr. Roosevelt Allen Jr., '87, Dr. Bert Chen, '00, and Dr. Joel A. Rosenfeld, '85, have been ranked among Castle Connolly's Top Doctors. They also were recognized as Atlanta's Top Doctors in Atlanta magazine's July issue.
A scholarship honoring the late Dr. Elias G. Haikal, '73, has been established by his son Dr. Lee Haikal for first-year medical students at Marshall University.
Dr. Lee Haikal is a graduate of the Marshall University Joan C. Edwards School of Medicine.
Three MCG graduates, Drs. Alex Shurling, '15, Rachel Johnson, '17 and Anna Strasma, '17, were featured in an Atlanta Journal Constitution article about their mission work in Nicaragua and how it continues to inspire their careers.
Dr. John Hill, '68, a retired Athens, Georgia-based OB/GYN, recently won the 2019 Annual Distinguished Service Award from the Georgia Obstetrical and Gynecological Society.
Dr. James Scott, '72, who practices at Georgia Sports Medicine in Tifton, Georgia has joined the Board of Directors for Tift Regional Health System.
Dr. Shannon Mize, '76, was named to the Forsyth County Central High School Hall of Fame. The high school is the oldest in Forsyth County (Cumming, Georgia).
Sen. Dean Burke, '81, has received one of the Georgia Hospital Association's (GHA) highest honors, the Distinguished Service Award. The award was presented at the association's annual meeting and recognized Sen. Burke for being a tireless advocate for hospitals and the patients and communities they serve. Sen. Burke, an OB/GYN, is the chief medical officer (CMO) of Memorial Hospital and Manor in Bainbridge, Georgia.
Dr. Bo Edwards, '84, has joined CareConnect Pediatrics in Moultrie, Georgia. Edwards most recently practiced at Reddy Pediatrics in Athens, Georgia where he served as a pediatrician for two years. Prior to his time at Reddy Pediatrics, Edwards operated his own pediatric clinic for nearly 30 years in Watkinsville, Georgia.
Woman's Hospital in Baton Rouge, Louisiana, has named Dr. Anthony Evans, '90, as the medical director of gynecologic oncology at the Breast & GYN Cancer Pavilion. Evans has more than 20 years of experience treating gynecologic cancers and previously practiced in Wisconsin at Marshfield Medical Center.
Dr. John Farley, '91, founder of Birmingham Internal Medicine in Birmingham, Alabama, has been voted Favorite Family Doctor by Birmingham Parent Magazine.
Dr. Michael L. Rhodes, '91, has been named associate dean for clinical affairs for the proposed Noorda College of Osteopathic Medicine, a planned independent and freestanding institution overseen by a governing board of trustees in Provo, Utah.
Dr. Donna J. Roberts, '91, a family medicine physician, has joined the staff of Memorial Health University Physicians | Adult Primary Care in Bluffton, South Carolina. For more than two decades, she practiced in the Atlanta area, where her patients voted her "Most Compassionate Physician" multiple times.
Dr. Kevin W. Windom, '93, has been recognized by Continental Who's Who as a Pinnacle Lifetime Achiever as the president of OB-GYN Associates in Marietta, Georgia.
Dr. Robert Erdin III, '99, an orthopaedic surgeon, has joined the medical staff of Stonewall Jackson Memorial Hospital, in Weston, West Virginia.
Dr. Bill Fricks, '00, has been named program director for the Southwest Georgia Family Medicine Residency Program, now known as the Phoebe Family Medicine Program, in Albany, Georgia.
Dr. Yousuf Khalifa, '04, has joined the global medicine panel of Fundamental Surgery, which pioneers immersive HapticVR training technology, combining virtual reality with haptics, a technology that simulates the sense of touch. He will provide scientific and clinical guidance in the development of additional surgical education and training platforms.
Dr. Jeremiah Johnson, '06, has joined Houston, Texas's Wood-lands Hospital and Baylor St. Luke's Medical Group's neurosurgery division, to lead the comprehensive stroke center.
Dr. Fatima Cody Stanford, '07
(MCG Medicine Spring/Summer 2019), has been elected vice chair of the Minority Affairs Section of the American Medical Association. Stanford is an obesity medicine physician scientist, educator and policy maker at Massachusetts General Hospital and Harvard Medical School.
Dr. Manny Trujillo, '08, has joined MEDcraze, the medical platform that offers individuals a direct connection to medical innovations. Trujillo will be providing professional advice and suggestions for patients asking about innovations and new technology in plastic and reconstructive surgery.
Dr. Justin Vining, '08, opened a second Wolfson Children's Specialty Center, the first pediatric cardiology practice in Valdosta, Georgia. His main office is in Tallahassee, Fla.
Dr. Ryan Schnetzer, '10, a spine surgeon in Macon, Georgia who was a player on the University of Georgia Football team's 2005 SEC championship team, was named to the University of Georgia's 40 Under 40 Alumni List.
Dr. Davis B. Horkan,'12, has joined Athens General and Colorectal Surgeons (AGCS), part of St. Mary's Medical Group in Athens, Georgia.
Dr. Lindsey E. Sweat, '15, has joined Southeast Georgia Physician Associates-Camden Primary Care in Brunswick, Georgia.
Dr. Chad Klar, '16, joined Colquitt Regional Medical Center in Moultrie, Georgia, as an emergency medicine physician.
In Memoriam
Dr. Carl R. Hartrampf, '56, a pioneer in reconstructive plastic surgery, who developed the TRAM flap, to reconstruct the breast after mastectomy, died June 20.
A 1982 manuscript in the journal Plastic and Reconstructive Surgery was the first to describe the technique using the transverse rectus abdominis muscle (TRAM) in the lower abdomen.
Development of this still widely used approach for breast reconstruction, led to him receiving the American Cancer Society Distinguished Service Award.
When asked how he developed the idea for the TRAM flap, he told the Atlanta Business Chronicle in 1998 he focused on a progression of family and educational experiences. "My mother tolerated my innovations and destructive behavior," he told them.
His father was also an influence. "He taught me that anything could be improved upon and that you should never assume anything is perfect or the best that could be had," Hartrampf told the Chronicle. "He also taught me to never assume that your ideas were insignificant or to think that your ideas had already been thought of before."
A native of Atlanta, Hartrampf did his postgraduate training at the University of North Carolina, Chapel Hill, and Washington University, St. Louis. He co-founded Atlanta Plastic Surgery in 1968.
Dr. Harold M. Mims, '48, Jan. 6
Dr. William D. King, '68, April 28
Dr. Wesley B. McDaniel, '83, April 29
Dr. David H. Rozier, '57, April 30
Dr. Reynolds G. Jarvis, '76, May 21
Dr. Carvin C. Moreland, '59, May 21
Dr. Cliff L. Cannon, '61, June 15
Dr. Alton R. Pilcher, '83, June 29
Dr. Ruth M. Shull, '55, July 3
Dr. William M. Bailey, '68, July 4
Dr. Randolph R. Smith, '70, July 6
Dr. Frederic M. Simowitz, '62, July 8
Dr. Donald E. Hubbard, '54, July 9
Dr. Arthur R. Holt Jr., '79, July 14
Dr. Peter M. Payne, '64, July 18
Dr. John A. Bowers, '56, July 20
Dr. Chester R. Lapeza III, '96, July 22
Dr. Brant G. Kersey, '99. July 25
Dr. Paul L. Rubin, '80, July 27
Dr. Harvey C. Walker, '61, July 28
Dr. Herbert D. Smith, '59, Aug. 6
Dr. Augustus B. Dudley, '54, Aug. 11
Dr. William B. Johnston, '54, Sept. 6
Dr. Harris D. Carpenter, '70, Sept. 8
Dr. Jimmy L. Dixon, '69, Sept. 17
Dr. Guy J. Dillard, '62, Oct. 21
Dr. Robert E. Roberts, '49, Oct. 29
Dr. Lloyd C. Davis, '55, Oct. 29
Dr. Luther M. Thomas, '58, Nov. 5
Dr. Robert E. Kelley, '69, Nov. 8