Drs. Franklin Tay and Fucong Tian have cumulatively traveled tens of thousands of miles to get where they are today, but the journey has been well worth the effort.
Tay, chair of the Department of Endodontics, left Hong Kong 16 years ago to join the DCG faculty. Prior to that, he spent eight years completing part-time postdoctoral work with , a longtime DCG faculty member and internationally renowned pioneer in dentin biology. Pashley discovered some 40 years ago that calcium oxalate is remarkably effective at plugging dentin tubules, a breakthrough in treating dentin hypersensitivity.
Pashley, Tay and their colleagues went on to make many other advances in dentin research as well, including developing materials that significantly increase the durability and biocompatibility of bonding materials for fillings, sealants and other oral health procedures. Their work led to some of the most dramatic improvements in adhesive dentistry in the past generation.
Pashley has since retired, but he left his lab in exceptionally good hands. Tay has carried the torch admirably, and he has staffed his department with the best minds in the field — including Tian.
Tian, originally from Beijing, China, came to DCG in 2015 as a postdoctoral fellow in Tay's lab and joined the faculty three years later. "Dr. Tay is a big name in dentin bonding," Tian says. "Dentists and scientists worldwide know of his work."
As Tay's career progressed, he became increasingly intrigued by the challenge of optimally filling canals in the dental pulp chamber — the procedure better known as a root canal treatment. He completed a DCG endodontics residency in 2007, intent on making the procedure as foolproof as possible. Filling those tiny canals requires exquisite precision; a single overlooked nook or cranny can doom the outcome. "It's fascinating because it's microscopic work," says Tay, noting that advances in fields such as computer technology and robotics have greatly enhanced endodontic techniques in recent years.
As his expertise grew, so did his curiosity. Now that dentists were better equipped than ever to access and analyze the most minute crevices of teeth and bones, what other advances were in store?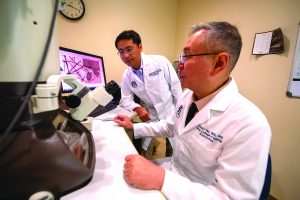 He and Tian are busy finding out.
"After 30 years working on dentin bonding, I became interested in collagen biology and how minerals get inside collagen fibrils (the protein in bones, muscles and skin responsible for healthy joints and skin elasticity)," Tay says. "That led to publications in several high-impact journals, including Nature Materials."
He and Tian are collaborating with scientists worldwide, including at the University of Washington and several universities in China, probing the use of extracellular DNA and RNA to stabilize amorphous calcium phosphate to mineralize collagen in dentin and bone before the fibrous proteins are degraded by age, injury or disease.
Remineralization has countless potential applications, they note, including hard tissue engineering and bone repair. "If you fracture a bone, for instance," says Tian, "we need a way to repair it. We are creating mineralized collagen scaffolds that can be inserted into bone wounds. We are also trying to remineralize dentin that has undergone decay by putting minerals back into the demineralized collagen matrix. The goal is to recalcify the dentin and save the tooth."
Says Tay, "Decay is caused by bacteria. Some of the bacteria produce acid, which dissolves enamel and dentin, releasing calcium ions from the tooth. It softens the dentin, which eventually breaks down. We are interested in new methods to remineralize these collagen fibrils."
They are also working with ceramic scientists, chemists and other specialists to improve the bioactivity of endodontic materials and better manipulate them for clinical use. Tricalcium silicate cements, for instance, have proven effective in repairing root perforations during root canal therapy and treating internal root resorption. The better the scientists can understand and refine these materials, the better they can apply them in dental care.
"For instance, some materials kill bacteria before sealing canals in dental pulp," Tay says, "and we now have better irrigation devices enabling us to flush out bacteria. Outcomes have improved dramatically in root canal procedures in the last 20 years, and our goal is to keep the momentum going."
These researchers are eminently grateful that the DCG is so responsive to their needs, including acquiring cutting-edge equipment. This includes computer tomography, scanners, transmission electron microscopes and 3D printers. "It's all very exciting," Tian says.
Perhaps because Tay is several decades into his career and Tian is just getting started, the two complement each other's work in innumerable ways. Tay appreciates Tian's fresh eye, and Tian is grateful for such a seasoned collaborator. Their mutual admiration is immediately apparent in their effortless rapport.
"Tian is the star," Tay insists.
Tian, of course, demurs. "What I've learned from Dr. Tay is to think outside of your own field," he says. "Our research is not limited to dentistry. Be open to things you aren't familiar with and continually be willing to search for new things."