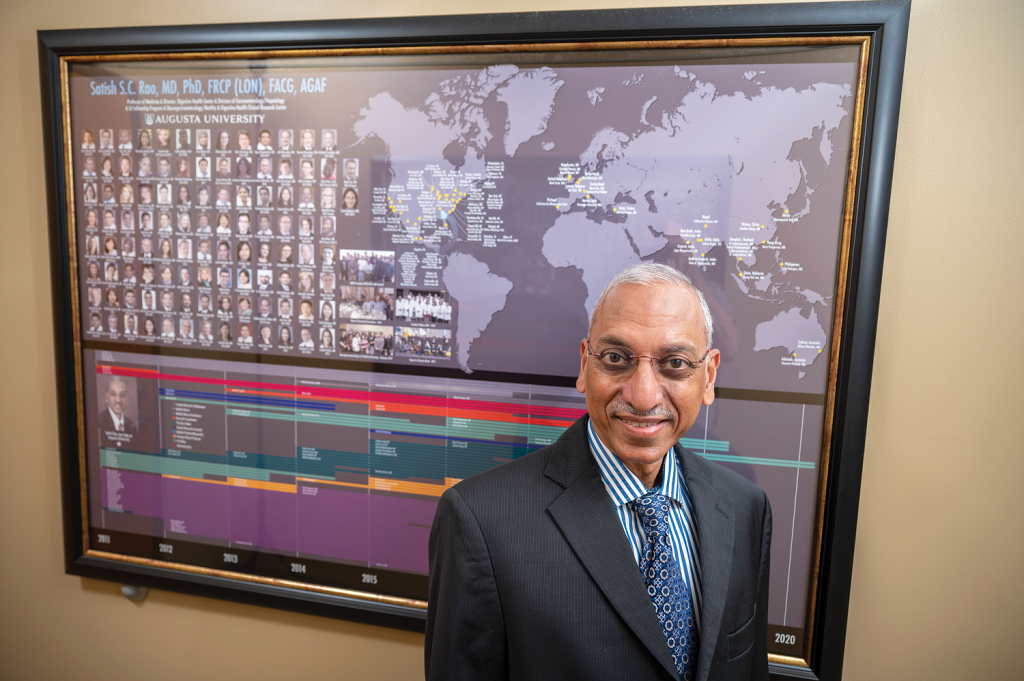 Dr. Satish S.C. Rao, J. Harold Harrison, MD, Distinguished University Chair in Gastroenterology and founding director of the Digestive Health Center at MCG and its teaching affiliate Augusta University Health System, has been named the inaugural recipient of the American College of Gastroenterology's Distinguished Mentorship and Teaching Award.
The lifelong educator and mentor for medical students, residents, fellows, postdocs and young faculty, was honored by the 15,000-member, international group for his meaningful and sustained contributions to trainees and colleagues in gastroenterology.
He has helped educate and mentor more than 60 undergraduate students, medical students, postdocs, fellows and residents with his clinical acumen and innovative, federally funded clinical research; more than 80 postdoctoral research fellows and graduate research fellows and assistants now in private practice and academic practices across the nation and beyond; as well as 23 junior faculty representing institutions from Thailand to California and across five continents. His mentees have also been honored internationally each year for more than 20 years.
His first five years at MCG and AU Health, Rao served as director of the gastroenterology fellowship program, and today he is director of the Digestive Health Clinical Research Center, as well as director of Neurogastroenterology and Motility. He served as director of the GI Service Line and chief of the Division of Gastroenterology/Hepatology during his first six years in Augusta.