A DCG researcher has recently received a $1.84 million National Institutes of Health grant to further his studies manipulating mitochondrial signaling pathways to treat head and neck cancer.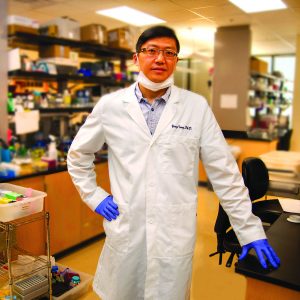 Dr. Yong Teng, assistant professor in the Department of Oral Biology and Diagnostic Sciences, is analyzing central regulators in cancer progression and metastasis. "My studies have identified several novel cancer targets and dissected their genetic contribution to various aspects of cancer predisposition, development and progression in a variety of cancer types," he says.
His five-year R01 grant supplements an approximately $300,000 R03 grant awarded in 2019, both funded by the NIH's National Institute of Dental and Craniofacial Research. Teng, who joined the DCG faculty in 2016 after serving on the Medical College of Georgia faculty, said his studies focus on head and neck cancer as a research platform.
Specifically, he and his colleagues seek to understand the central molecular determinants and critical molecular regulations, such as tumor metabolic rewiring and autophagic cell reprogramming, and steps involved in cancer progression and treatment resistance. They plan to establish 3D-based perfused tumor models to advance their studies.
Teng's previous studies laid the groundwork for a multipronged approach to the most comprehensive analysis possible of potential contributing factors to cancer metastasis, including analyses related to cell and molecular biology, genomics, epigenetics, proteomics, protein chemistry and animal-modeling techniques.
He has also developed novel ways to use stapled peptides — chains of amino acid compounds with a synthetic brace — to target intracellular control points in cancer cells that cannot be modulated by current therapies. Enhanced drug delivery, such as developing nanoparticle-laden macrophages for tumor-tropic drug delivery, is also on his radar.
Says Teng, "I hope my research opens new avenues for future studies in mitochondrial oncology and helps build a foundation for novel cancer therapies."