Dr. Stephen Hansard envisioned a career in mission work after earning his DCG degree in 1989.
"I love the idea of helping the people around me, to use dentistry to serve God. It was a major aim to use my profession as a ministry, and I'm also passionate about education," says Hansard, noting that he taught high school before pursuing dentistry.
He soon learned that serving people in need didn't require traveling to far-flung locations. Hansard, who grew up in Cumming, Georgia, quickly discovered how great the need was in his own back yard.
That's why he joined the nonprofit Good Samaritan Health Center in 2007, signing on as dental director for the Cobb clinic in Marietta, Georgia. "Good Sam," as it is affectionately known, is funded by donations, supported by local churches and largely staffed by volunteers. It serves those in need either for free or on a sliding-fee scale, depending on ability to pay. The dental clinic provides comprehensive dentistry for those age 6 and older. They treat thousands of patients a year, and though COVID-19 has temporarily disrupted their schedule, they are doing everything possible to continue their services as safely as possible.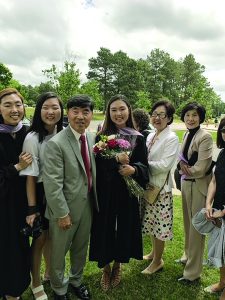 Hansard considers his role a perfect fit, not only in optimizing oral health but in helping educate the patients he serves and the DCG students who rotate through the clinic. He recently recruited one of those students, Dr. Grace Park ('19), upon her graduation from dental school. Several volunteers serve the clinic as well.
"I love people, and this is a way I can have a major impact on their lives," says Hansard. "There are any number of people who are trying their best to make a go of it in life and who otherwise lack access to dental care. It's wonderful to provide for them the very best that we can."
Adds Hansard, "Not only do we help them feel and look better through dentistry, we can play a major role in their systemic health."
He is eminently grateful to the DCG for making his career possible. "My dental education was really wonderful," he says. "I actually started out in dental hygiene, and I had wonderful teachers every step of the way."
He is happy to pay it forward by training DCG students. "Part of our goal is to help simulate what they might experience in private practice. They see patients with multiple needs and learn how to prioritize those needs. They're able to do a wide variety of procedures in the same chair, supervised not only by Dr. Park and me but by the many area dentists who volunteer their time here."
Hansard stresses to all of them that they needn't look far to help fill a need. "If you're looking for a way to help," he says, "it's right there where they are. The mission field is all around them. We hope we show them a way to use the gifts God has given them in whatever setting they may be in."